Car & Caboodle launches

Our friend Robert at the modern baby review site Coochicoos recently launched Car & Caboodle, a new blog devoted to the family car . As always, he's hit upon a brilliant niche because most parents drive and have to contend with negotiating form with function. Our Ciaran has joined his staff too (don't worry, she'll still be writing for us!). I'll also be contributing a "Getting Real Behind the Wheel/Mommy Driver" post.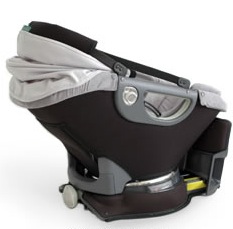 Robert told us,
My inspiration for the site began after we had our daughter in July and we began to experience our cars as parents with a newborn. For instance, I found out that putting our Orbit car seat in the back required moving the front passenger seat so far forward that it rendered the legroom useless to a grown adult. Now this car was our late model 528 BMW – a luxury sedan, where with a baby, you can't use the front seat? Amazing.

I started talking with friends and found out how much they wanted to share their own experiences with their cars. As parents, we look at our cars differently, don't we? Suddenly, dads who loved their vintage cars, or their muscle cars, or their two-seater sports cars, are seriously considering getting a minivan. I searched around and found that such a passionate conversation was missing from the online world – parents talking about and sharing their stories about the love for their cars. So, Car & Caboodle was born.
Instead of focusing on horsepower, gear ratios, and quarter mile times, they'll be talking about third-row legroom, car seat capacity, in-carentertainment, trunk space and family road trips. Whether deciding on a new car for a growing family or needing hands-onreviews of the latest car and travel accessories and mobile kid gear – they have just the info, links and special deals to get you rolling.
Head over to Car & Caboodle to get the parents'-eye view of your major mode of transportation.