Crown Prince Pavlos of Greece and Princess Marie-Chantal expecting fifth child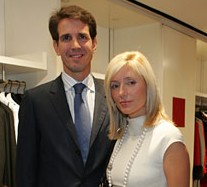 Crown Prince Pavlos of Greece, 40, and his wife, Princess Marie-Chantal, 39, have announced that they are expecting their fifth child in early July.
The new baby will join siblings Princess Maria-Olympia, 11, Prince Constantine Alexios, 9, Prince Achileas-Andreas, 7, and Prince Odysseas-Kimon, 3.
Source: King of Greece
Thanks to CBB reader Heather.