Although we had gotten a small peek, NKOTB and Dancing With the Stars alum Joey McIntyre officially introduces his son Griffin Thomas, 7 weeks, in this week's issue of People. After welcoming their son on November 20th, Joey, 35, and Barrett, 29, have become 'a great team.' Joey spends the morning playing with Griffin so that his wife can enjoy her eggs and coffee in peace. He also tidies the house — 'I like clearing away the clutter' — grocery shops, and picks up more onesies for his son, who is 'already growing out of clothes.' Barrett loves his helpfulness, saying,
He's the most loving dad, and short of breastfeeding, he does it all.
That doesn't mean it's all work and no play for Joey though — each morning, the family of three plops down on the couch for a little TV time.
[We watch 'The View'.] We get our Whoopi fill.
Being the son of a singer is something Griffin is apparently already aware he is.
He coos and stuff but he hums a lot! He did it, like, two hours straight one day. It was cute, but then it was like, 'Is this normal?'
As for daddy tricks, Joey employs two — warm-up scales and massage.
[I sing him warm-up scales.] It definitely calms him down. [Also,] he likes his hands to be massaged, which is very like me. [After his bath,] my thumb is massaging the palm of his hand, and he totally chills out.
All in all, Joey has a positive review of fatherhood and his son thus far.
Every day I get to experience with him is a joy.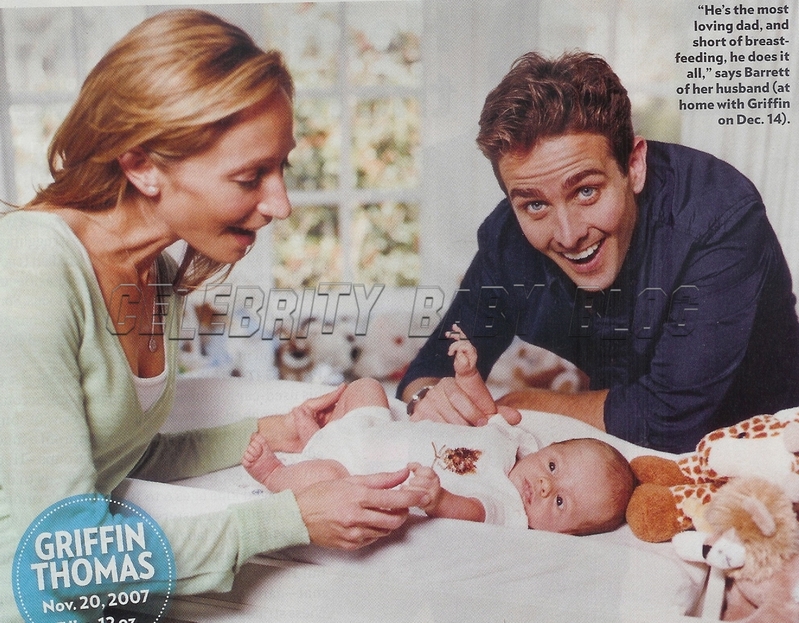 Source: People, January 21st issue, p. 142
Photo by Allison Dyer.
Thanks to CBB reader Sarah for the scan.