Elisabeth Hasselbeck returns to The View, Taylor in tow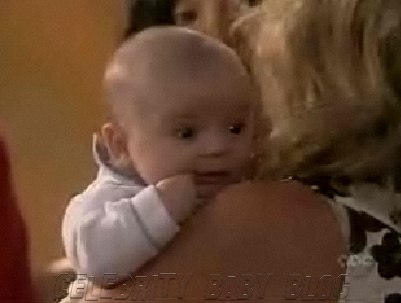 View co-host Elisabeth Hasselbeck, 30, returned to the table today, joined by son Taylor Thomas, 8 weeks.
I thought I'd bring a little testosterone to the table today…he eats all day long. He's like 12 lbs now, I think. He's just constantly on me — I call myself the Dairy Queen.
Sherri Shepherd interjected,
This is true! When Elisabeth walked in the hair and makeup room this morning, her boobs were bigger than mine.
Elisabeth agreed,
They were. At you watch, they're camouflaged now, but by the end of the hour, they'll be back. [Taylor] does something sometimes that's a little scary, I'm not going to lie. [Makes biting motion.] I look down and I'm like, 'You're a little animal!'
As for her secret to looking slim even though she hasn't lost much, Elisabeth says,
It's prints! Wear a print. They camouflage everything.

I'll get there. I'm a little frustrated because I have a little injuryin my back, something's bothering me, and I can't run –- and we've hadreally nice weather the last couple of days, and every time I seesomeone running I get angry at them because I can't. But I'll get there.
Click below for photos of Taylor, interview highlights (differences between boys and girls, having a second child, Tim as a dad, Grace as a sister), and to watch the video.
On husband Tim Hasselbeck, a quarterback for the Arizona Cardinals, Elisabeth remarks,
You name it, he does it. He'll change diapers. He takes Gracie out on daddy-daughter dates.They'll go get ice-cream or root beer floats. He really knows how tomake a child feel special.
Speaking of Grace Elisabeth, 2 ½, she's very fond of her new little brother.
Whenshe wakes up in the middle of the night, she'll say, 'Taylor, comehere.' She wants to see him first thing in the morning, she wants tokiss him good night. She just loves him. It's a blessing. She's such agood big sister.

But you know, my doctor told me…to keep them at a safe distanceand never leave them alone together, because literally siblings loveeach other to death sometimes. She loves him so much she just wants toput something right up to his face, or hug him so hard.
Having a second child has completely changed Elisabeth's outlook.
When they say it rocks your world? It rocks your world, having asecond. What is going on!? When does this stop?! … This is the firsttime I've brushed my teeth in two months, it was special for today.


AndI'm constantly trying to balance out everybody's needs. Was I a littlebit of a wife today? Sure. 'Here's a cracker, Tim. I'm your wife."Grace, do you want Goldfish for dinner? Okay, I feel bad, 'cause I'mpaying a lot of attention to Taylor, so Goldfish it is!' I feel likeI'm constantly trying to be the great equalizer in the home.


But I loveit! I wouldn't want to be anything else, and wouldn't want anyone elsedoing it for me.
Elisabeth also discussed the differences between having a daughter and having a son.
I don't know if it's because he's a boy, or it's second child, but Ikind of let him sit up a little more on his own. He seems a little moresturdy. I'll go, 'Look at that chest. He's strong!' I'm notsuper-sterilizing everything like I was with Grace. [When she was born]people would walk in and I'd have them put booties on.

[Tim] loves having a boy. There is a difference. But I feel like Taylor's mine. Grace is his, and Taylor's mine –- forever.
Source: Red Lasso; OK! Magazine; People