CBB Exclusive: Jenni St. John updates us on her new baby girl and the latest maternity fashions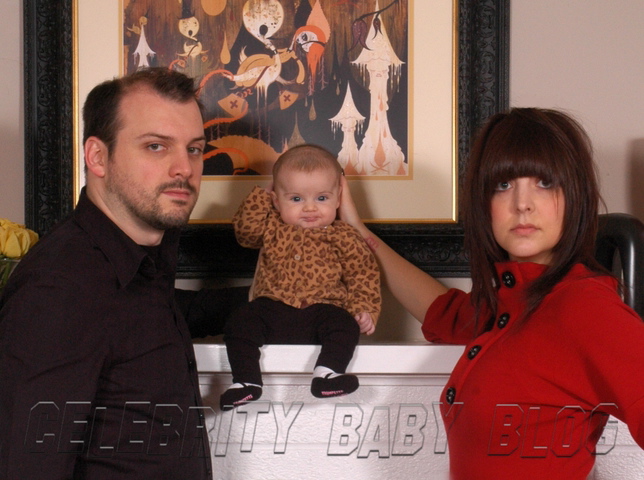 We'™ll admit it: We love Jenni St. John, the CEO of Unbuttoned Maternity. She's like one of your girlfriends, fun, easy-going and cute as, well, a button. We first chatted with her over the summer, during her pregnancy, and have now returned to meet her baby girl. During our interview and photo shoot, we gabbed while the always multi-tasking Jenni used her breast pump and answered our q'€™s. As Jenni worked it for the camera, Jenni's husband, Chris, cradled their adorable new baby Sophie Anne, now 4-months old.
Photography: Gabbeli Photography (www.gabbeliphotography.com)
Hair & Makeup: Douglas Martucci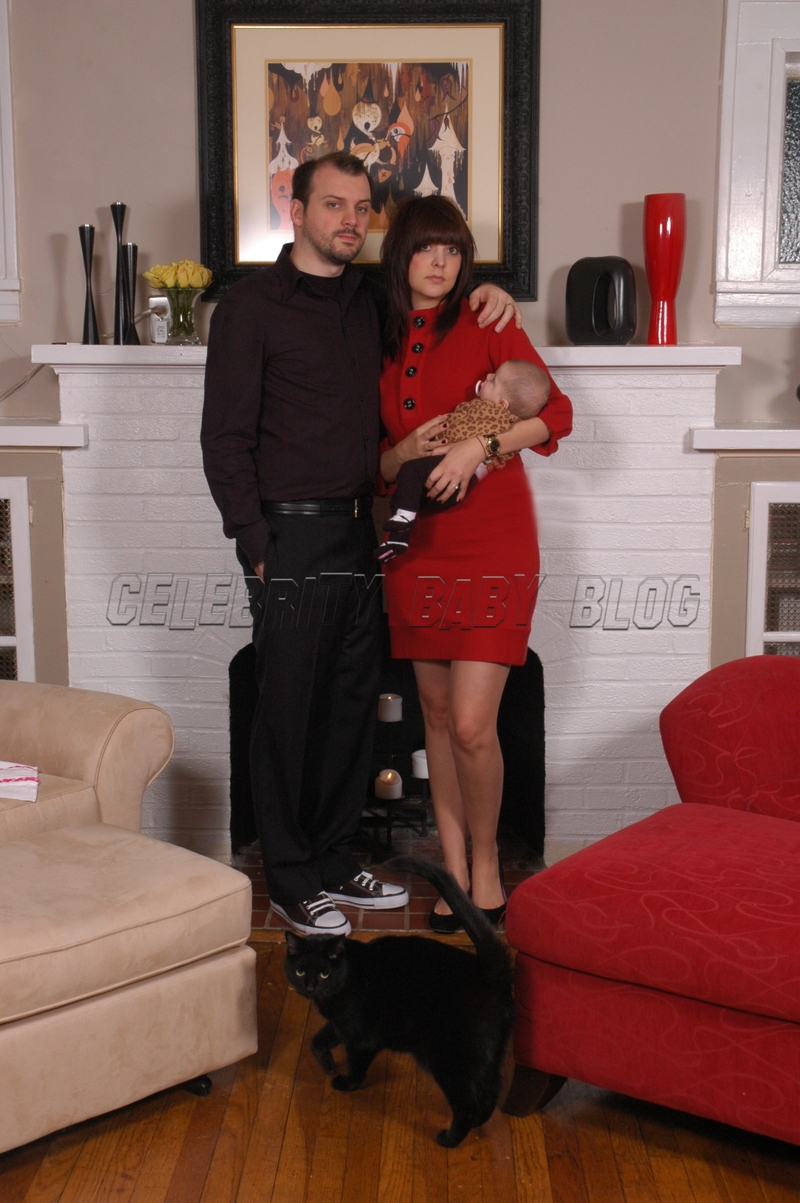 (Kitty's name is Satan!)
Sophie is just the cutest baby ever.
I am in love with my daughter! She was born on August 28th, after 23 long hours of labor. She is just so amazing, so perfect in every way.
How were the first few weeks after bringing Sophie home?
They were really amazing and really rough at the same time. As first-time parents, there are so many things you'€™re learning along the way. Sophie was very colicky, and that was the biggest bump to get over.

For the first four weeks, she was cranky and cried a lot. After that period, she grew out of it. Now she'€™s sleeping, so we'€™re sleeping, too! In the meantime, thought, we absolutely can't take our eyes off this little bundle of joy!
Did the CEO of her own maternity company take maternity leave?
Yes, Chris and I took five weeks off. After that time, I started bringing the baby to work with me. It's one of the perks of owning your own company!
How did it feel to go back to work?
It was awesome to go back to work. I did miss it, and by going in little by little with Sophie, it helped me to establish a routine with her. Everything just fell into place.

It'€™s amazing to have her in the office; the girls who work for me fell in love with her! Of course, it is hard to get work done, because she'€™s a cute distraction.
How do you find a balance between work and motherhood?
It took a while, but I think finding balance is something you do every day. And it definitely takes a lot of juggling. I have to keep everything running well for my business, and then also find that quality time with Sophie. I think to find that balance between work and family, you have to multi-task. There'€™s no other way around it.

I've learned to do everything with one hand! I type most of my emails with one hand and I put all my calls on speakerphone! I make it work because I would have a really hard time putting her in daycare with her being so little.
Do you think that the maternity industry is more accepting of working moms?
Absolutely. The maternity industry of today is a much younger industry than it used to be. A lot of the designers in maternity got into the field because they were pregnant and said to themselves, '€œWhat am I going to wear?' These women also have their babies at work, and we are all going through the same thing.
What can we look forward to with Unbuttoned?
There'€™s a lot happening now! The Spring/Summer '08 line is really cool. The main trend in the maternity industry this season is actually very similar to what's going on in the fashion world. You'€™re going to see a lot of wide-leg trousers –€" which at first you might not think would be good for maternity –€" but actually, the designs are very flattering! There are also lots of mens'€™ two pieces, like vests and trouser shorts. One of the best things from the season is the beautiful dresses, in pretty, fun fabrics.

Everyone is going to be excited when they see it. It'€™s the most fashion forward season that I've ever seen in the industry. There are going to be so many fabulous pregnant women walking around!
What is the latest news with your vintage T-shirt line, Rock Me Mama?
We just finished the Spring/Summer '€™08 line for Rock Me Mama. We did lots of fun tanks and tunics, with much more of an 80's vibe than we've done before. It'€™s a lot of vibrant colors, with a lot of contrast stitching. Again, it's definitely a crossover from the fashion industry. It'€™s very alive next season, and I'm really excited about it.
What are your plans for the future?
We're going to keep rolling out our Rock Me Mama line with new silhouettes. We've been tossing around the idea of having a storefront, which will be very exciting. Most likely, it will be in Englewood, NJ, where our offices are. That will probably happen in a year from now.

For now, I just want to enjoy Sophie. She is a joy every day, and she's at the stage now where she'€™s laughing and very responsive. I'm having fun being with her and learning who she is as a little person.
What advice would you give other moms who want to start their own business?
Patience and perseverance. It's not easy but it can be done. You have to sacrifice a lot and you have to be focused. There's so much to deter and distract you from your goals. It's very easy to look down at your baby in the morning and all you want to do is snuggle. You say, '€œOkay, five more minutes, okay ten more minutes.'

But then you get out of bed and you accomplish your goals. It makes you feel good, both as a woman and as a mother. When you do both successfully, it's so rewarding.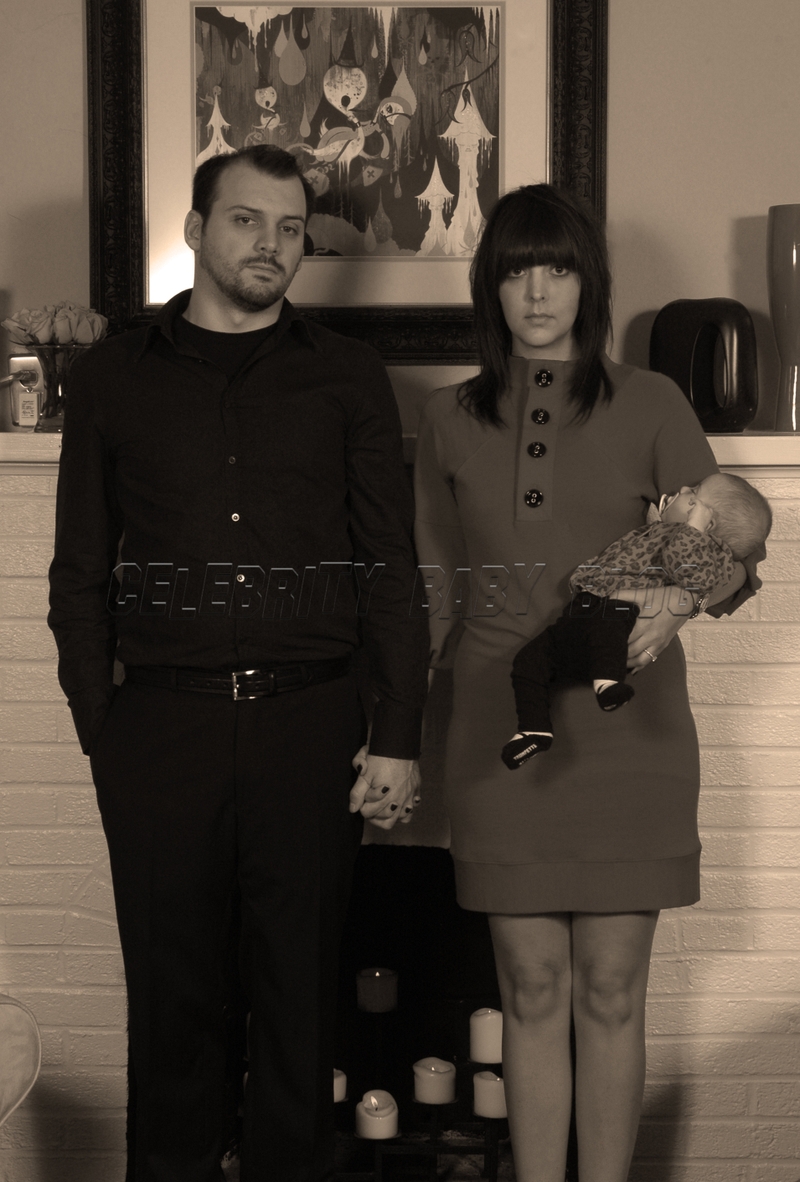 EXCLUSIVELY FOR CBB READERS: Jenni is offering 10% off any order at Unbuttoned Maternity. Use code CELEBTEN to get your discount. Expires February 28th, 2008.
See Jenni's maternity shoot for CBB from July here.