The year in unusual celebrity baby names
Ah, everyone loves unusual celebrity baby names and you're bound to see lists elsewhere but here at Celebrity Baby Blog, we keep track of them just because they're babies, not because we think their names are funny.
Before you post a comment about how it's wrong to give a child an unusual name, read what Penn Jillette, father of Moxie CrimeFighter and Zolten Penn told us earlier this year about unusual names:
I think it's pretty cruel to give a kid a name that others are going to have. I think it's very important to have a unique name within any group you're likely to be in. It's more friendly to go to school being the only "Penn" then to have to be called by your full name, "Mike Jones" or whatever. I always felt sorry for the Mikes and Bobs. There's just so many, how do you know when they're talking to you?
Here we go…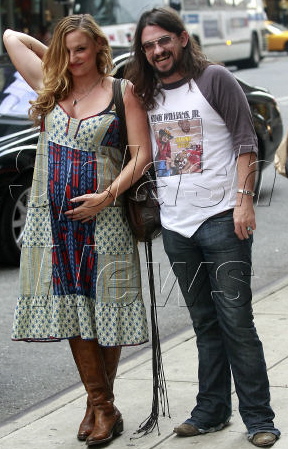 Actress Drea de Matteo, 35, and rocker Shooter Jennings, 28, welcomed daughter Alabama Gypsyrose in November.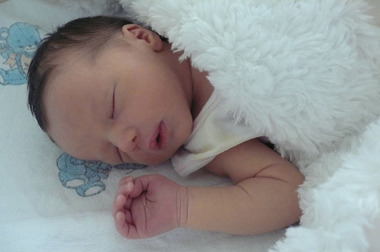 Milla Jovovich and Paul W.S. Anderson welcomed their first child, daughter Ever Gabo, on Saturday, November 3rd. Milla, 31, explained the origin of her daughter's name on her website,
The name Ever is a Scottish boy's name — Paul [W.S. Anderson]has Scottish blood in him (not to mention two tartans in his family!)so we wanted to give her a name that reflected her "Celtic" roots,while her middle name Gabo — pronounced "Gabeau" — is a mixture of myparents names! The first two letters are after my mom's first name,Galina and the last two letters are after my dad's first name Bogie!
Christian singers Jaci Velasquez, 28, and Nic Gonzales welcomed their son Zealand David on November 3rd.
Red Hot Chili Pepper rocker Anthony Kiedis, 44, and his model girlfriend, Heather Christie, 22, welcomed Everly Bear in October. Anthony said:
We had a long list of names, but suppose it came to me by way of the Everly Brothers, which is one of my favorite bands. And sometimes last names make good first names.
Anthony explained that Heather helped choose the second part of Everly's name – 'bear'. He said:
The mama came up with Bear. That made sense to me because he's from me and I feel like I'm part of the bear clan, and I think it's nice to have a little bit of earth in your name.
Actress Gretchen Mol, 34, and her husband, director Tod 'Kip' Williams, 38, welcomed son Ptolemy John on September 10th in NYC.
Riders of the Storm and former Fuel frontman Brett Scallions, 35, and his wife MTV2 VJ Abby Gennet welcomed their first child, son Jagger Song Scallions, on September 7.
Actress Iyari Limon, 31, has revealed that she gave birth to her first child, daughter Kimaya Thais, on Friday, August 24th. Iyari said, "Kimaya = Divine in Sanskrit and Thais=Bond (Greek)."
Minnesota Twins player Rondell White, 35, and his wife, Zanovia, welcomed daughter Zaiya on Friday, September 21 at 11:40 p.m. The couple's first child weighed 7 pounds, 9 ounces.
Pittsburgh Pirates player Jack Wilson, 29, and his wife, Julie, welcomed their third child, daughter Jersi Grace, in September. In regards to Jersi's unique name, Jack reveals,
I got to pick the name because it was a girl. If it had been a boy, my wife would have picked the name. We have all J's in our family, and we are Christians. I found Jersi in a book, and there's a corny baseball connection (to jersey), even though it is spelled in a different way. It's not a household name. I like that.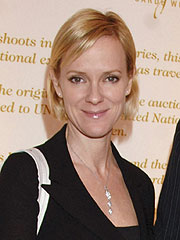 Actress Hermione Norris and her husband, Simon Wheeler, recently welcomed daughter Hero. She weighed 6 pounds, 7 ounces. Hermione named her daughter after an 80-year-old woman that she met that was named Hero. Simon said of his new daughter, that the couple is "absolutely thrilled."
Jason Albert, the lead singer for country band Heartland, and his wife, Kelly, welcomed daughter Kelson Noel on Tuesday, August 14 in Huntsville, Alabama. She weighed 7 pounds, 6 ounces.
Miami Dolphins running back Lorenzo Booker and his girlfriend welcomed their first child, son Kayin Elijah Booker on Sunday, August 12.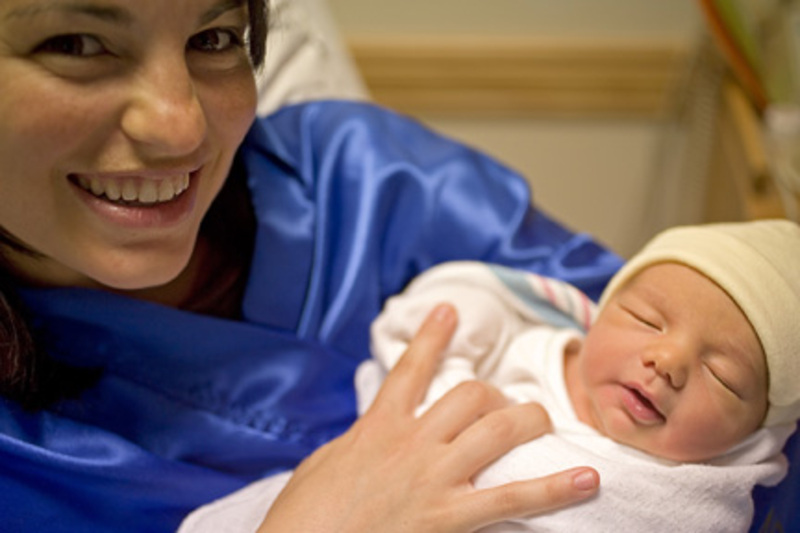 Dancing With The Stars dancer Ashly Delgrosso Costa, 25, and her husband Mike Costa welcomed their first child on July 27th, a week past her due date. Ammon Michael was born at 7:01 am at Tobey Hospital in Wareham, MA. In Egyptian, Ammon mean
s 'the hidden one'. He was a god of wind and air in Egyptian mythology, later his attributes were combined with another god, Ra, and was worshiped as Amon-Ra. However, Ashly, who is LDS, drew the name from the Book of Mormon, as did recent celebrity dad Brandon Flowers of the Killers.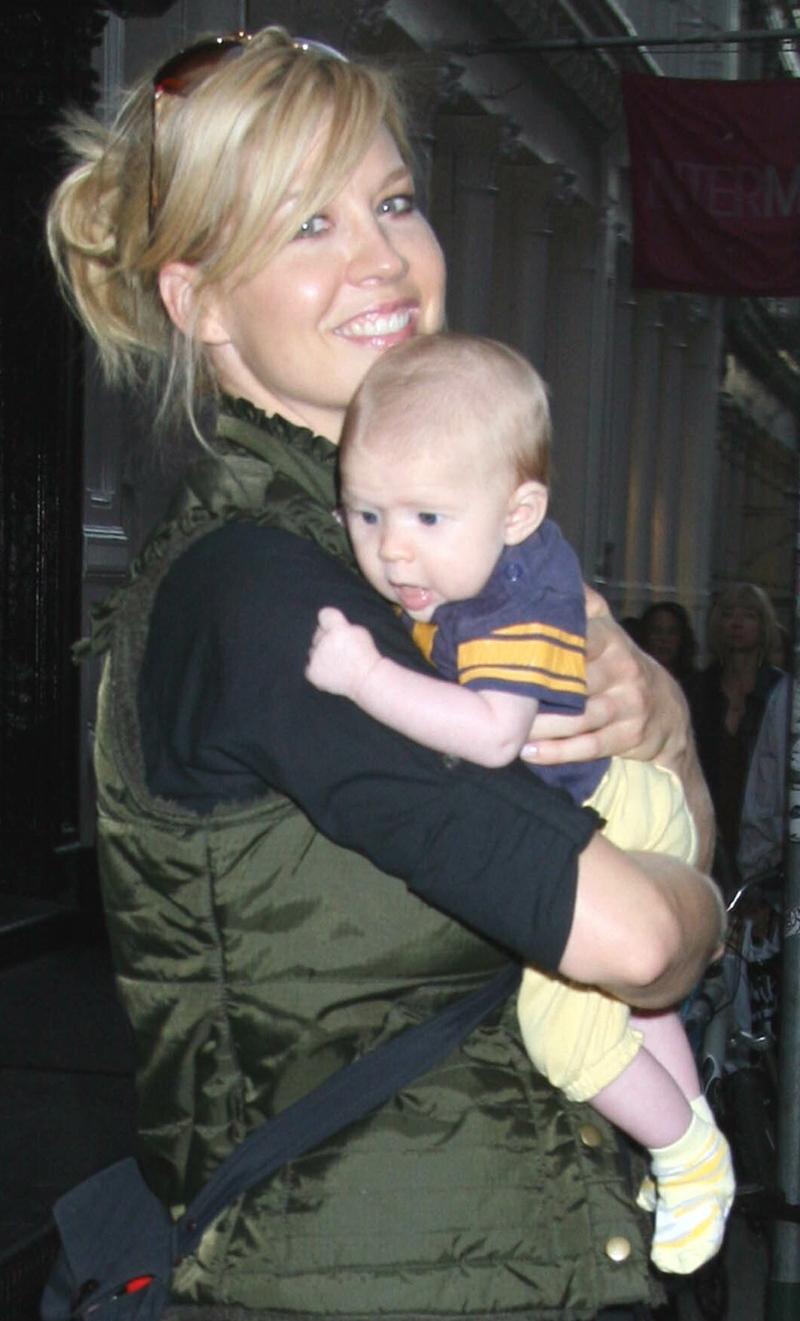 Actress Jenna Elfman, 35, and her husband Bodhi, 38, welcomed son Story Elias on Monday, July 23rd. In his introduction post, Jenna explained the name,
In September 2006, just before we started trying to conceive, Bodhi turned to me in bed and said, 'How about Story Elias?' I just loved it.

Bodhi adds, 'I just think 'story' is a great word. What's better than a great story?'
Jason Terry, a guard for the Dallas Mavericks, and his wife, Johniyka, welcomed their fourth daughter on the morning of Wednesday, June 20. Little Jasa Azuré weighed in at 6 pounds, 10 ounces. The 30-year-old and his wife are also the proud parents to daughters Jasionna, Jalayah and Jaida.
Katie Price and Peter Andre named their June-born daughter Princess Tiaamii ("tee-ah-me"). The name is a combination of her two grandmother's names; Thea after Peter's mom and Amy after Katie's mom. Katie said,
We've put an accent over the first 'a' to make it a bit more exotic and two 'i's at the end just to make it look a bit different. We love it because it's unique, plus it means something special to us.
Peter added,
Katie always loved the name Princess but everyone thought it was a bit over the top. I loved it too but I wanted to name her after both our mums and then I just woke up one morning and thought 'I know! We'll just put them together!'. If people don't like it, that's up to them. We're really happy and proud.
Bruce Bowen — a guard for the San Antonio Spurs — became a father for the second time in June, when wife Yardley Bowen gave birth to the couple's second son, 6 lb, 11 oz. Ozmel at 9:19 a.m.
Korn frontman Jonathan Davis, 36, welcomed his third son on Saturday, April 28th. His wife, former adult film star Deven, gave birth by c-section to Zeppelin, who joins big brothers Pirate, 2, and Nathan, 11.
Designer Lucy Sykes Rellie and her husband Euan Rellie are the proud parents of a second son, born on Wednesday, March 21st. Titus Jasper Jake Icarus, who weighed in at 9 lbs, 3 oz, was born at 8:25 p.m. and joins big brother Heathcliff (Heathie), 3 1/2. The baby is another new addition for the Sykes family — Lucy's twin, author Plum Sykes, welcomed daughter Ursula in October.
Celebrity hairstylist Ric Pipino and his MAC makeup executive fiancee Jenne Lombardo are parents again after welcoming son Bowie Vincent in New York City back on Monday, March 5th. Bowie weighed in at 7 lbs, 9 oz and was 21 inches long. He joins big sister Roxie J'Amie, 17 months.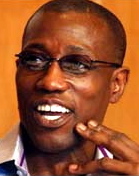 Wesley Snipes, 44, is a dad for the fourth time after welcoming son Alimayu Moa-T in March. This is Wesley and his wife, well known Korean painter Nikki Park's, third child together. Alimayu joins sisters Iset, 5 1/2, and Jua, as well as brother Jelani Asar, 19. Baby Name Bible co-author Linda Rosencrantz tells us that Alimayu appears to be a rare Swahili name, meaning "God is honored."
Poison guitarist C.C. DeVille and his girlfriend, Shannon Malone have welcomed their first child together, a son. The little boy, who weighed in at 7 lbs 2 oz has been named Vallon DeVille Johannesson (this is C.C.'s real last name – his first name is Bruce).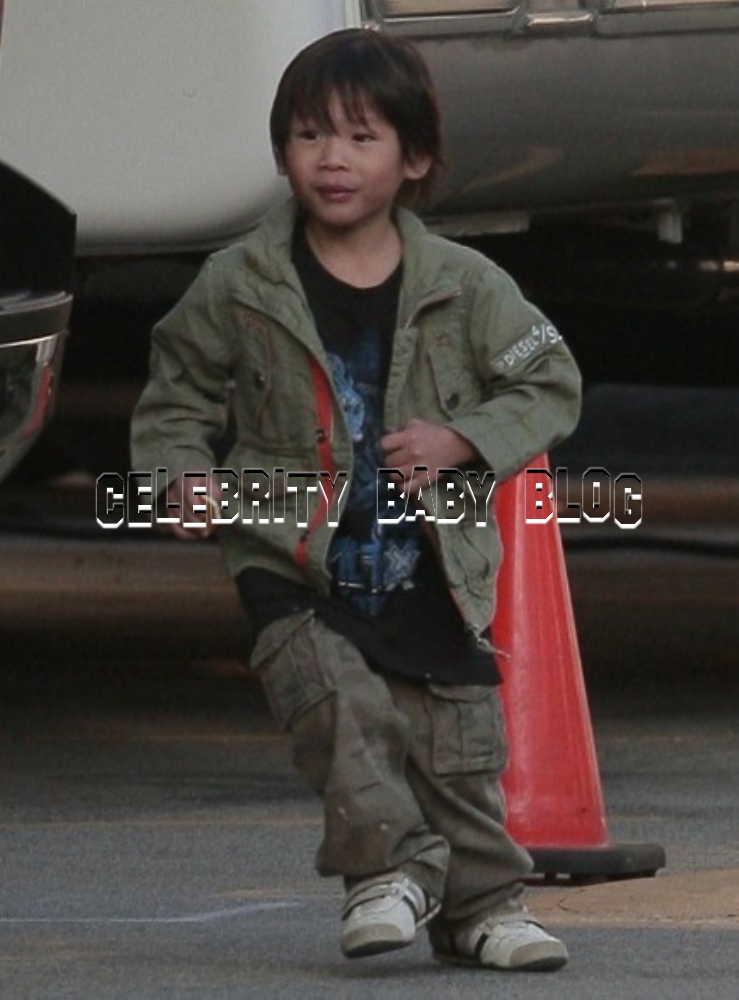 When she adopted him earlier this year, Angelina Jolie changed her second son's name from Pham Quang Sang to Pax Thien Jolie. The name means peaceful sky (Pax is peace in Latin and Thien is sky or heaven in Vietnamese).
Skating with Celebrities champions Lloyd Eisler, 43, and Kristy Swanson, 37, welcomed their first child together. The baby boy, Magnus Hart Swanson Eisler arrived at 11:36pm and was 7lbs, 11 oz.
According to a poster at the ATWT SoapCentral forum, As The World Turns actress Maura West, 34, (Carly) and husband Scott DeFreitas (ex-Andy) welcomed son Basil John on January 30th. Basil weighed in at 9 lbs, 10 oz, and joins siblings Benjamin, 10 1/2, (from Maura's previous relationship) Joseph Peter, 6 1/2 and Katherine Marie, 5.
Canadian Olympic alpine skier Thomas Grandi and his wife, Sara Renner, an Olympic silver medalist, welcomed their first child, 7 pound, 2 ounce daughter Aria on Thursday, February 1st.
Robbie Merrill, bassist for rock band Godsmack, and his wife Heather are new parents after welcoming a daughter, Nianni Chay, on January 18th, weighing in at just under 7 lbs.
Actor and comedian Kevin Nealon, 53, and his wife Susan, 35, are first time parents after welcoming a son in January. Gable Ness was born in Santa Monica, CA. On his son's name, Kevin said,
We saw a poster at Kinko's of Clark Gable.
All My Children's Thorsten Kaye, 40, and his longtime partner, former One Life to Live star Susan Haskell, 38, welcomed their second child on Sunday, January 28th. Daughter Marlowe Marann made her debut at 9:38 pm, weighing in at 5 lbs, 8 oz.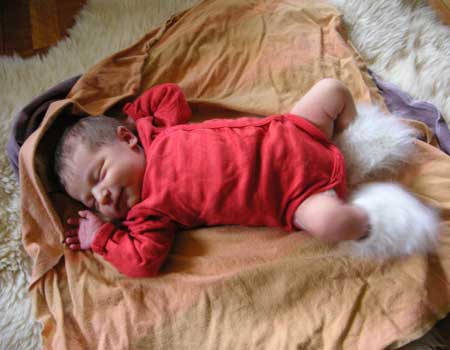 Ani DiFranco gave birth to a little girl that she named Petah Lucia, who weighed 7 lbs, 8 oz, in her Buffalo home on January 20th.
Annabeth Gish, 35, and her husband Wade Allen, a martial arts expert, welcomed their first child, a little boy named Cash Alexander Allen, in January. Annabeth can currently be seen in the Showtime series Brotherhood. Of Cash's name, Annabeth said,
Alexander means leader of men, which is auspicious. But he doesn't have to be a leader if he doesn't want to. And Cash was a name that my husband loved and chose…it's kind of cowboy-esque. It's the name that we always liked the most [during pregnancy] but popped a few more names into the ring to have options. We were going to wait to see what he looked like…even though we knew he was going to be Cash.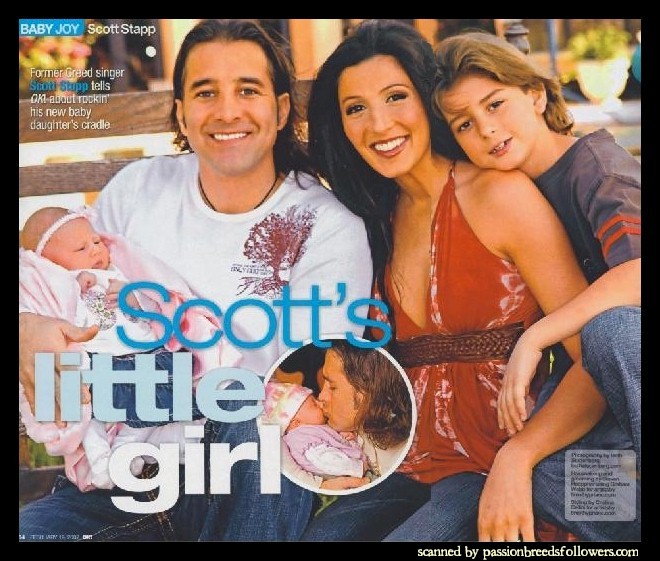 Rocker Scott Stapp and his wife Jaclyn, former Miss New York, welcomed their first child together. Milán Hayat Stapp was born in Miami, FL in January. She weighed 6 lbs 7 oz and was 20 inches long. She joins big brother Jagger, 8, from Scott's previous marriage.
A press release from the couple detailed why they chose the interesting names they did for their daughter. It says, "Milán has been chosen from Scott's Cherokee heritage for its definition, which is 'to have the creativity of God.' Hayat is from Jaclyn's Jordanian upbringing and is simply 'to give life.' "
For other unusual celebrity baby names from past years, click here.
What is your favorite unusual celebrity baby names from 2007?