At $249.99, Graco's first luxury stroller, the cleo, is adorable. It combines features of the Inglesina Zippy and the Peg Perego Pliko P3, but for about $100 less.
The fold is relatively compact considering its size, and easy to fold. Fans of American-designed/Graco strollers will be happy with the two parent cupholders (store a sippy cup in one and your water bottle in the other), a removable snacktray, and a front accessible large storage basket (with pockets for sippy cups). The one-touch breaks (instead of two) are handy. It holds a single child up to 4 years old and 40 pounds with a 5 point harness. It accepts Graco® SnugRide® and Infant SafeSeat™ car seats so you can use it as a travel system. Graco considers it a full size stroller but to me, it's in between compact and full-size. The stroller weight is 18.5 pounds, slightly heavier than the 17-17.5 lb Zippy and Pliko P3.
The suspension is impressive (full spring coil) but the plastic wheels don't handle well in my neighborhood which has bumpy sidewalks so I have to walk in the street with it. At the mall, it's great. I really like how plush the seat is and the soft-grip adjustablehandles. You can adjust them in several ergonomic positions. However,with Anya, I would not be able to use this as my main stroller because though it has a nice recline, I find that the sitting up position still reclines too much and Anya isn't able to sit up straight.
Colorways available are Truffle (shades of milk chocolate and dark chocolate brown mixed together in soft suede piped with copper orange) and Meteor (black with silver tech accents). For availability, visit Graco's store locator.
Can you tell the difference between the cleo, Zippy, and Pliko? (For the answers, click Continue Reading.)
Peg Perego Pliko P3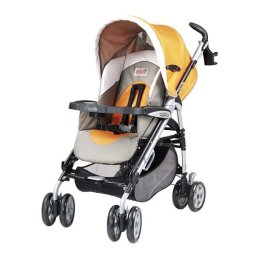 Inglesina Zippy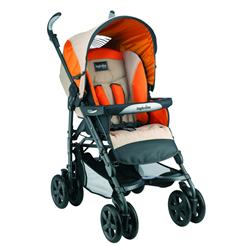 Graco cleo