When the Victoria's Secret Fashion Show aired on December 4, viewers were given an exclusive, firsthand look at how Heidi Klum manages to shed her baby weight so quickly after the birth of her children. In the opening segment of the controversial Fashion Show, Heidi was shown preparing for her return to the runway. With a Rocky-inspired feel to it, Heidi was shown using a jogging stroller as part of her regimen.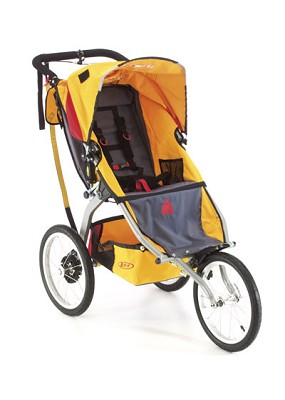 Heidi's jogging stroller of choice was the BOB Ironman Stroller in yellow, $349. BOB strollers pride themselves on being designed with fitness in mind. Damon Noller, VP of sales and marketing for BOB, said,
The average mom may not have a training routine as serious as asupermodel's, but she is still looking for an effective way to get backinto shape following pregnancy that doesn't conflict with her parentingschedule. Meeting the needs of more realistic workout requirements, the Ironman,in addition to every stroller in the BOB line, offers specialty features thatcan turn an everyday stroller walk into a workout.
Some of the features of the BOB Ironman Stroller are a fixed front wheel for superior on-road running performance and a suspension system, capable of 3" of travel, provides for an exceptionally smooth ride. It also offers a stiffer suspension, which maximizes maneuverability and response when running. And, the hand-activated front wheel brake acts as a slowing mechanism.
BOB offers various models, all packed with special features aimed at the exercising needs of parents.