Nature's Baby Organics donates to the Richie Madden Children's Foundation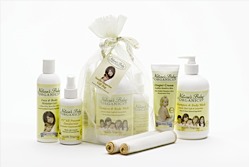 Nature's Baby Organics was invited to provide some of the products for the Richie Madden Children's Foundation. Soon-to-be new mom Nicole Richie saw the line in Whole Foods and asked her people to get in contact with the company. They sent 120 full size products to the LA Free Clinic in honor of the charity. They also sent a custom gift basket of the line to her shower.
Nature's Baby Organics is a line of all natural, organic and luxurious products designed for the entire family. All products are formulated to be 70-95% certified organic by the USDA. Rich with organic ingredients: Fresh Aloe (not pre-preserved like most products), Cocoa butter, Calendula, Kukui Nut Oil, Chamomile, Olive Oil, Shea Butter, and Tamanu.
The line includes the new Ah-Choo! Chest Rub and Organic Soothing Stick, Shampoo/Baby Wash in Lavendar Chamomile and Vanilla Tangerine, Conditioner/Detanger, Organic Face and Body Moisturizer, Aromatherapy Calming Spray, Organic Diaper Cream, Organic Baby Oil in Mandarin Coconut, Silky Dusting Powder and PU All Purpose Deodorizer.