Sarah Wynter earns a fortune (with a gift basket)
Sarah Wynter has been getting ready for her son with baby showers, and her guests have been really creative with their gifts for her. Three weeks ago she had an intimate baby shower in Brentwood, CA hosted by Dylan McDermott'sestranged wife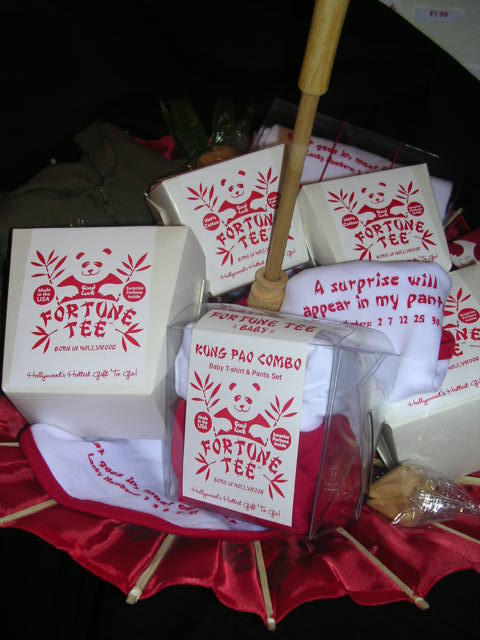 Shiva Rose.
Among the loot she received at the party, was Fortune Tee's The Hamper set. Other celebrities who received The Hamper are Brad Pitt and Angelina Jolie, Jenna Elfman and Naomi Watts. Included in Sarah's fancy gift set were shirts, pants, diaper covers and even pants. Each basket is uniquely created with all the items packaged in takeoutboxes sitting inside up upturned Asian parasol.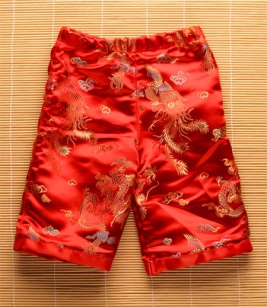 Fortune Tee's products come with cute sayings on them that are reminiscent of what you get in a fortune cookie with a little more sass. Lucky girl Sarah took home all of the following, Light Blue Short Sleeve One Piece 'Fortune Tee prediction: Future Heart Breaker, Light Blue 'Born in Hollywood'hat, White/Light Blue Bib 'To burp me is to love me', Red Satin Dragon Print Lounge Pants (left), Black Zip Up Hoody 'A surprise will appear in my pants', Black Short Sleeve One Piece 'A nap is in my near future',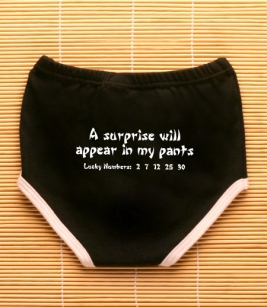 Maternity Underwear ' If this belly's rockin' don't come a knockin', Red Womens T-Shirt 'A cocktail is in my near future' and the piece de resistance a Black Cotton Diaper Cover 'A surprise will appear in my pants' (right).
Carla O'Brien created the Fortune Tee brand after she cracked open a fortune cookie that read, "You will make a fortune with a friend." Carla and Megan MacEachern, a close friend, take the tongue-in-cheek sayings and add a play on proverbs you find in fortune cookies to create truly unique and very amusing clothing. All products come shipped in cute, Chinese takeout style packaging and they have tons of gift set options.
You can find the products at fortuneteeshirt.com.