2007 Holiday Project Auction: Bébéologie's luxury baby bath and body care gift set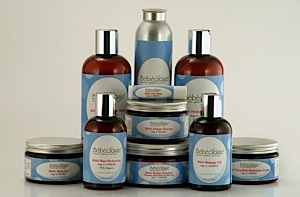 Here is your opportunity to become a Bébéologie mom and support a good cause!
Bébéologie's luxury baby bath and body care gift set retails for $310 and includes all 10 Sensitive Skin Series products: Bébé Head to Toe Wash, Bébé Hair Hydration, Bébé Saline Soother, Bébé Hydration Lotion, Bébé Ultra-Rich Hydration Cream, Bébé Massage Oil, Bébé Diaper Rescue, Bébé Skin-Aid, Bébé Baby Powder, and Bébé Lip Balm.
As a mommy-owned business, Bébéologie understands that parents are more informed than ever before about what is best for their baby and need not apologize for demanding it! Bébéologie's goal is to create the best natural and organic baby bath and body-care products on the market. To this end, we only use superior-grade ingredients that have a therapeutic or functional purpose (there are no "filler" ingredients in our products). And we use only ingredients in concentrations calibrated to the sensitive skin of your newborn. Natural, gentle, and pure—our products are formulated for your baby. But they are luxurious enough for you.
Bébéologie searches the globe for the finest organic and natural ingredients to develop spa-quality body care products for your newborn baby and family. The result is our Sensitive Skin Series and The Bébéologie 3-Step System: CLEANSE + HYDRATE + PROTECT.
* Organic & natural ingredients
* Extra mild formulas for newborn skin
* pH-balanced & non-irritating
* No parabens, sulfates, or mineral oil
* No petroleum-based ingredients
* No added fragrance
* Cruelty-free/not tested on animals
Please visit our website at www.bebeologie.com to learn more about our luxury baby bath and body care products or call/e-mail us at 323-646-7652 info@bebeologie.com
CBB Deal: Save 10% on your first purchase with coupon code 1CBB (expires 12/31/07).
Click here to bid on this and other great packages we are auctioning, benefiting the Newman Breastfeeding Clinic & Institute (NBCI).
---

This year's project, A Month of Auctions, benefits the Newman Breastfeeding Clinic & Institute (NBCI) atthe Canadian College of Naturopathic Medicine in Toronto, run by worldrenowned breastfeeding advocate and pediatrician Dr. Jack Newman. Theprimary function of the NBCI is to assist breastfeeding mothers andtheir babies with breastfeeding challenges. It also provides clinicaltraining for pediatric residents, medical students, nurses, andcandidates for those who intend to become International Board CertifiedLactation Consultants. As the NBCI no longer receives funding from theCanadian government, it is in danger of closing, having already reducedits hours. Even though the center is in Canada, their work and websiteis an amazing resource to all nursing mothers and those who wish tohelp them.