Angie Harmon Sehorn on the family's holiday traditions
Women's Murder Club actress Angie Harmon Sehorn, 35, loves the holidays. Wife to former NY Giants player Jason Sehorn and mom to daughters Finley Faith, 4, and Avery Grace, 2, opens up the People in their holiday issue to describe the family's traditions.
When your kids walk in, everything should be joyous. It's just the mostwonderful time of the year and I want it everywhere. When they'readults with husbands and kids of their own, I want them to think, 'AtChristmas, Mom is going to have the whole house decorated, it's goingto smell like good food for weeks and we're going to have such a greattime.'

That's what I do this for. I want them to have a memory that theycan't wait to get back to.
For the former Law & Order star, being at home is an important aspect of the holiday, as is a toy clean-out.
We want our kids to wake up in their own beds and spend Christmas morning at their own house. Our favorite thing is to see them come down and see the tree and everything under it.

Santa is not over-the-top, Mommy is. But this is also a tradition ofours — every year before Christmas, we gather up every single toy thatthey don't really play with that much, and we take them and give themaway. They need to know it's about more than, 'Gimme some gifts.'
The Christmas spirit even extends into the girls' rooms.
Finley and Avery jump in tubs of garland and wear it. It's really cute. Each girl has a little Christmas tree in her bedroom. They are all lit up and become their night lights.
Music and photos are extremely important to Angie as well — even to the point of obsession, she admits.
I get obsessive and change the CD based on the time of day. It's the Vienna Boys' Choir during nap time for the girls. When cooking dinner, we bounce around to Jingle Bell Rock.

Do whatever it takes to get your kids to pose for a Christmas card photo. There's screaming and bribing with lollipops. But when people get it, they say, 'Aren't they the picture of blissfulness?'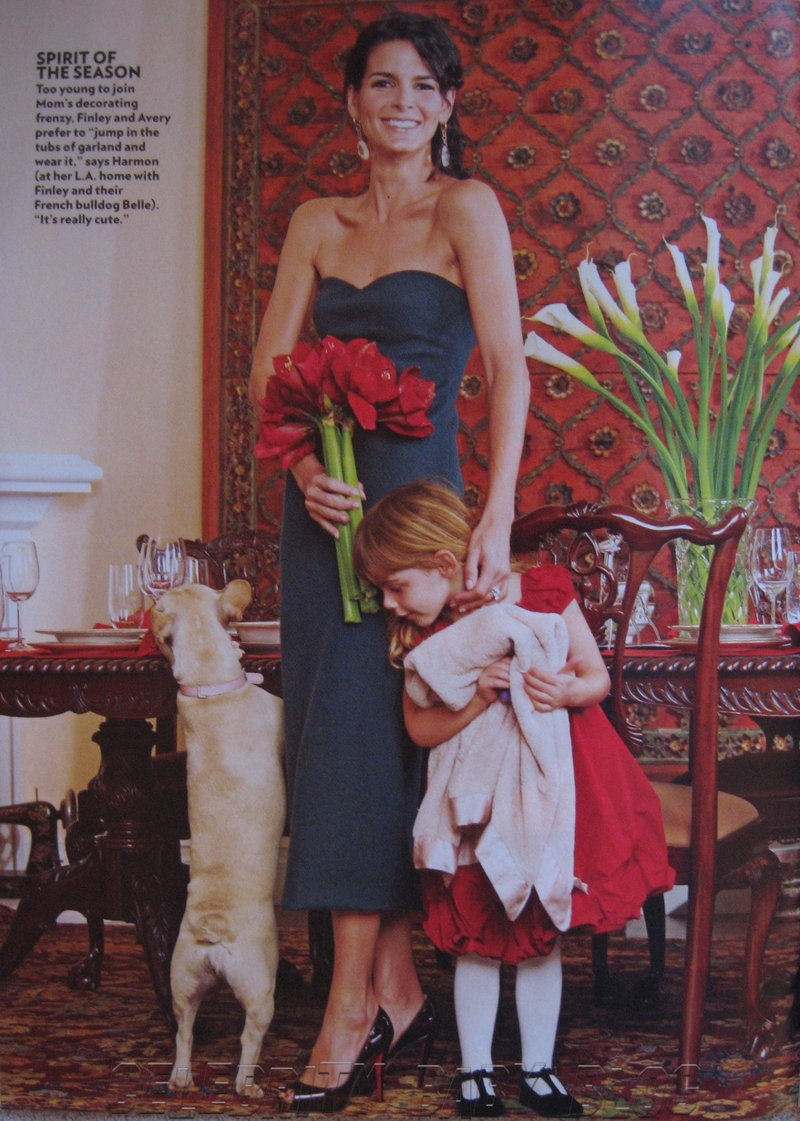 Source: People Extra, Holiday issue, p. 40-43.