Update: Giveaway: Way Out Wax gift certificate
Update: The winner is Cindi H. who wrote, "I burn candles almost every night in our home!"
CBB Deal: Use coupon code celebrity to save 15% on your entire order at wayoutwax.com.
---

What's better than hand-poured candles made with pure essential oils? An e-boutique that makes shopping for candles almost as relaxing as burning them.
With a completely redesigned website and fifteen years of aromatic expertise, Way Out Wax candles offer elegance, style and pure aromatherapy bliss. The new site is both an innovative online store and reference source for all things "Way Out." Skillfully blending beauty and style, the site is a guide to the products and values that drive the Vermont company.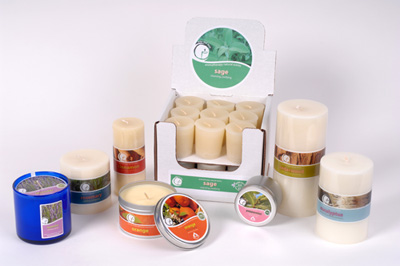 Perennial favorites are the pure Lavender candle and Sweet Dreams, a luscious aromatherapy synergy combining lavender, lemongrass and marjoram essential oils. Cozy Home is a comforting blend of cinnamon, nutmeg and clove essential oils and Clear Head (peppermint, rosemary and eucalyptus) is a winter-time must!
*These candles graced the goodie bags at the Sundance Film Festival for the premiere of Darfur-crisis documentary "The Devil Came on Horseback."
Enter to win a $100 gift certificate from Way Out Wax! Visit WayOutWax.com to find the answer to this question: Name a scent or style of candle available on their website that wasn't mentioned above. Email your answer AND full name and mailing address to celebritybabyblog@gmail.com.Make sure you put "Way Out Wax" in the subject line AND your full address in the email in order for your entryto be counted. Giveaway closes Monday, December 3 at 9 am EST. (For giveaway terms & conditions, click here.)