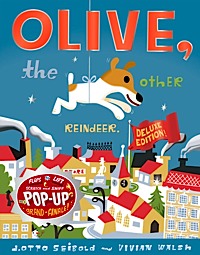 The deluxe edition of Olive, The Other Reindeer: Deluxe Edition — featuring flaps to lift, scratch & sniff, and a pop-up grand finale — marks the 10th anniversary of this modern Christmas classic: the story of a little dog named Olive with big reindeer dreams!
Enter to win one of three copies of Olive, The Other Reindeer: Deluxe Edition ! Visit ChronicleBooks.com to find the answer to this question: What is the price of the Olive, the Other Reindeer Pop-Up Advent Calendar? Email your answer AND full name and mailing address to celebritybabyblog @ gmail.com.Make sure you put "Olive, The Other Reindeer" in the subject line in order for your entryto be counted. Giveaway closes Friday, November 30 at 9 am EST. (For giveaway terms & conditions, click here.)
CBB Deal: Enter promo code CelebrityBaby to receive 30% off and free shipping on your entire order (and not just this book) at chroniclebooks.com. Offer expires December 31st.