Poppy Montgomery shares son's nursery
Poppy Montgomery is anxiously awaiting the arrival of her son, due in late December. In the meantime, the 32-year-old Without a Trace star opens up her home to OK! to show off her baby boy's nursery.
Click below for all the photo, interview, and gear highlights.
Poppy and boyfriend Adam Kaufman are more than ready to meet their son.
I'm so excited and ready. I feel him moving and kicking and I want to see who he is.
Poppy and Adam have been dating for years, but have yet to become engaged, despite pressure from others.
We've discussed it, certainly. My belief has been as long as we're a happy couple and we're good parents. That's the priority.
The couple, who said at their baby shower in October that they had a name list of 'about 10,' are now focusing on narrowing it down.
Adam's name choice is the front-runner at this point. It starts with a 'J,' but I'm not allowed to say anything else! [laughs]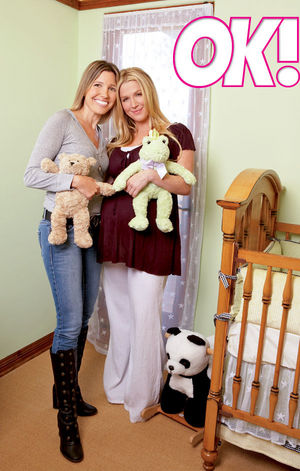 Poppy designed the bee-themed lemon-and-lime colored nursery with the help of Wendy Bellissimo, pictured with her above. Unlike some celeb parents, who hire a designer and let them do their thing, it was important to Poppy to be involved in the process.
I didn't realize how much it would mean to me. I'm reliving my childhood. It's like I've become 5-years-old again. I saw the crib and said, 'I want to sleep in here!'

I love the bee theme. In one of my animal meanings books, it says that bees mean fertility.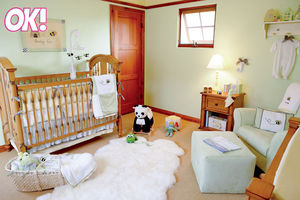 (Above photo features Bla Bla buzzy bug doll ($30), Honey Bee 'Busy Bee' canvas wall art ($40), Honey Bee mobile ($50), and Honey Bee 5-piece infant bedding set ($250).)
One of Poppy's favorite items in the room is the Moses basket pictured above left.
When I'm at work, I can put the basket in the trailer and he can sleep in there. Thatbasket is a little oasis. If he's sleeping with us in bed, you can putit in between you and we won't roll over and squish him.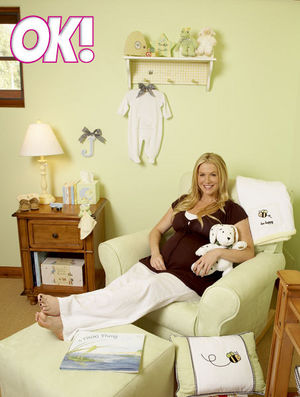 (Above photo features Honey Bee lamp ($50), Honey Bee peg shelf ($50), Honey Bee clock ($20), Honey Bee receiving blanket ($25), and Honey Bee pillow ($25).)
Her other top pick is the green rocker in the corner — Poppy knows she'll be spending a lot of time in it.
It's going to be great for nursing because it's really big, luxurious and comfortable. I love rocking back and forth because it's so soothing, and it has an ottoman, so I can keep my feet up.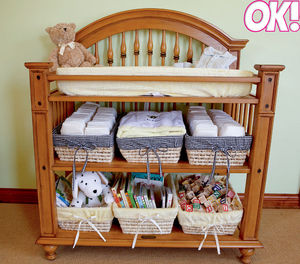 (Above photo features Wendy Bellissimo lime gingham changing pad cover ($15), Honey Bee baskets with black gingham liners ($20), and Honey Bee baskets with buttercup stripe liners ($20).)
The changing table is filled with necessities like diapers and burp cloths — and fun stuff too, like blocks and books at baby's level for when he begins sitting up and reaching. Everything is arranged in baskets. Says Wendy,
Organization is a new mommy's best friend.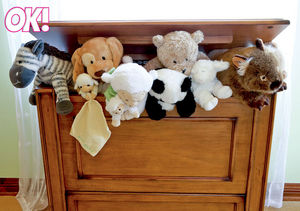 Source: OK! Weekly, Dec 3rd issue, p. 64-65. Photos by Caroline Greyshock.