Baby Bling with Ali Wing: Jennifer Garner — No Fuss, No Muss Mom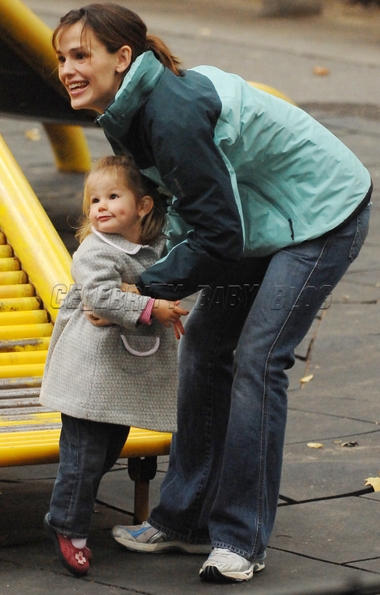 Who doesn't love Jennifer Garner for her everyday, girl-next-door good looks? She's among a rare breed of A-list celebrities who runs around town buying her own groceries, wearing jeans, running shoes and t-shirts. Some call her sloppy while others say she lacks personal style. (As a note, even she admits fashion is not her thing). Thank goodness for Jennifer's career, there are stylists. Thank goodness for all of us, there are still celebrities like Jennifer.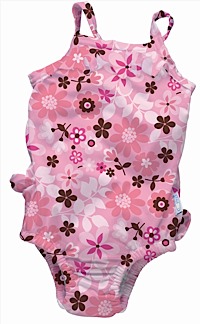 Probably among the luckiest is her little girl, Violet. She's all smiles, all the time, and game for every new playground adventure. Have you ever seen a happier little girl? And how could she not be when the family's number-one focus is the playground? From her uber-pedestrian Robeez shoes, to smart but far from fancy iPlay swimwear, Violet is dressed to play, not be on display. (Note from Danielle: This tanksuit has a built-in swim diaper!)
This is one little girl who, despite having mega-stars for parents, keeps it real, with appropriately messy hair, untucked shirts and food on her face. Is there any question that she's a chip off the 'ol block(ette)? Good for you mom and dad!
---

In addition to smarter products, giggleoffers customized services to help make it easier to become a newparent, such as giggle personal shoppers and giggle's ultimate babyregistry, offering parents a robust set of tools such as gear guides,starter checklists and a baby gear dictionary.
Don't forget to enter our amazinggiveaway… the best I think we've ever offered to date… enter andwin a $1000 Gift Card! Stock up on baby essentials…on giggle! Go to giggle.com/winit to enter and to see the sweepstakes rules. Use Promo Code: GIG2