Nicole Richie shares her love of Nature's Baby
Nicole Richie was out shopping at Whole Foods when she discovered the Nature's Baby line of hair and skincare products. She was totally taken with the gentle, organic, and utterly yummy smelling collection. So much so that she had her reps contact them and asked them to work with her, donating items for new moms in need via the LA Free Clinic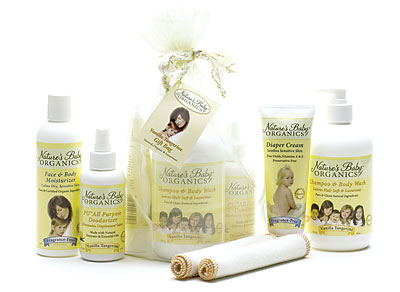 .
Nicole is determined to be a good mom, and it's inspiring to see her use her public position to help other women with this very big life transition. It's also terrific to see her spread the love about Nature's Baby Products. This mom-created, doctor recommended line is notable for their pure organic ingredients and is free of irritating and potentially hazardous ingredients such as parabens, SLS (Sulfates), DEA, Propolyne Glycol and synthetic fragrances. Their baby and mom friendly products are thick, rich, moisturizing and smell just divine. I almost hate to share the Tangerine-Vanilla shampoo and body wash with my kids, I love it so much for myself.
Other celebrity moms who are fans of the line include Julie Bowen and Joely Fisher who has recently ordered the entire collection for the Treehouse Social Club.
Exclusively for Celebrity Baby Blog Readers: Save 15% when you enter the coupon code celebrity.