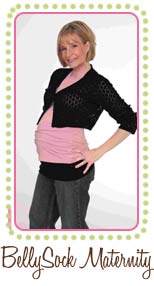 BellySock™ LLC was created from a need to solve a simple problem for moms and moms-to-be by a mom. On a cool November day, founder Deb Grover was pregnant and craving the opportunity to wear her favorite winter sweater. Unfortunately her growing belly would not allow her this luxury. We all know what pregnant women do when they have a craving, they figure out a way to satisfy it. And viola, BellySock™ Maternity was born. With the aid of this simple and stretchy tube top for your belly, a non-maternity top wardrobe can be worn throughout pregnancy. No longer is there a need to spend hundreds of dollars on maternity wear because with BellySock™ Maternity, any top is a maternity top!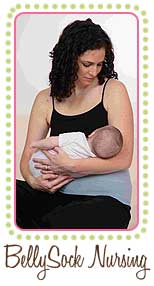 A few months later, with the birth of her daughter Ryleigh, BellySock™ Nursing was born. She wanted to be able to ditch the cumbersome blanket from her nursing routine, hide her new earned "muffin top" and focus on what mattered, nursing Ryleigh. She also wanted to avoid spending her hard earned money on expensive nursing tops, none of which seemed to do exactly what she wanted.
So she modified the simple design of BellySock™ Maternity. BellySock™ Nursing is a simple and stretchy belly tube top that slips under your shirt and conceals your belly while nursing. Two simple ideas, a little ingenuity and a company was born.
BellySocks™ come in a variety of colors and are sized XS to 3X. Now available in Organic Cotton! A portion of all BellySock™ profits are donated to prenatal and breastfeeding non-profits.
The PERFECT Gifts: BellySock™, BabyLegs, and Woobee Kids! There are two baskets, that are the essential gift for any mom-to-be or new parents.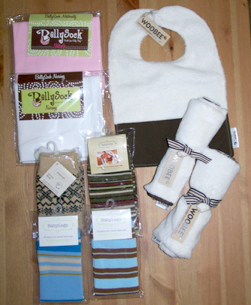 Boy's Basket, a $164 value (left) – white nursing BellySock™, pink maternity BellySock™, cream plush bib, 2cream burps from Woobee, camel wool, banana blue, brown/blue, mossyorganic BabyLegs.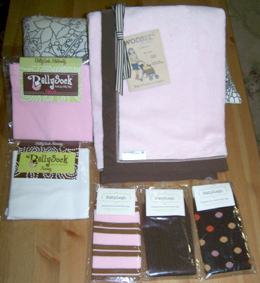 Girl's Basket, a $162 value (right) – white nursing BellySock™, pink maternity BellySock™, Classic pink Woobee blanket, pink/brown, brown ribbed, dark rye BabyLegs.
Click here to bid on these and other great packages we are auctioning, benefiting the Newman Breastfeeding Clinic & Institute (NBCI).
---

This year's project, A Month of Auctions, benefits the Newman Breastfeeding Clinic & Institute (NBCI) atthe Canadian College of Naturopathic Medicine in Toronto, run by worldrenowned breastfeeding advocate and pediatrician Dr. Jack Newman. Theprimary function of the NBCI is to assist breastfeeding mothers andtheir babies with breastfeeding challenges. It also provides clinicaltraining for pediatric residents, medical students, nurses, andcandidates for those who intend to become International Board CertifiedLactation Consultants. As the NBCI no longer receives funding from theCanadian government, it is in danger of closing, having already reducedits hours. Even though the center is in Canada, their work and websiteis an amazing resource to all nursing mothers and those who wish tohelp them.