Update: Keri Russell talks about "intense" labor, nursing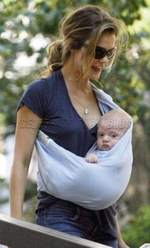 Delivering her son River, 5-months, was no walk in the park for Keri Russell. During a Friday appearance on The View, Keri told the audience that she labored for 38 hours before River made his eventual entry to the world. Said Keri,
Your first baby, they always say it's going to take forever, just wait, wait at home as long as you can. But little did I know, once my water broke, it was like, 'Game on.' Those contractions…it was like a whole other world. I was like, 'Get me in the car and get me to that hospital.'

So we live in Brooklyn, hired a gypsy cab, it takes forever to get there — Friday afternoon, rush hour traffic. It took an hour and a half, going about a block a minute…I'm in the backseat of the cab, like, 'Oh my god!' (grips chair) The poor driver is looking in his rear view mirror.


It was intense…38 hours [of labor]. It was a looooong time. But it all worked out okay.
Speaking of walks in the park, Keri says that that is about the extent of her exercise regimen, for she only recently hired her first babysitter. As for her remarkable return to pre-baby size, the 30-year-old credits good genes and breastfeeding.
I would love to say I worked out every day. But it's truly genetics. You have what you have, and then you work hard or you don't. And I… It was genetics. And I have to say, breastfeeding, you burn so many calories, and I'm still doing it.
River is the first child for Keri, 31, and her husband Shane Deary.
Source: The View via Keri Russell Info