Julianne Moore: 'You're a better parent the more yourself you are.'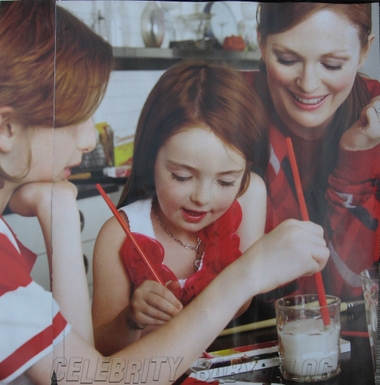 Actress Julianne Moore says she's never understood women who say that they've been transformed by motherhood. For Julianne, herself mom to Caleb, turning 10-years-old next month, and Liv, 5 1/2, motherhood has served to enhance the person she's always been.
I think it's dangerous to want to get rid of your self to parent. You're a better parent the more yourself you are. It doesn't mean you're your self to the exclusion of other human beings, but 'you' have to be there. You have to be a 'person' there, not just 'mom.'
Click below for the rest of the interview.
The message of nurturing and loving your true self is present in Julianne's new children's book Freckleface Strawberry($18) which Julianne says she was motivated to write after Caleb becameself-conscious about his appearance at age seven. Julianne, turning 47next month, says she all-too-well remembers those same feelings ofself-doubt as a young girl.
Littlekids are so confident until this one point – and [then] they start tosee themselves as different. It's heartbreaking, but so touching. Howdo you move through this? How do you explain to them that there'salways going to be something you don't like necessarily – and that itmight not even go away when you grow up?
Together with husband Bart Freundlich, the foursome resides in New York City, and Julianne tells PoshCravings.com that she wouldn't have it any other way. According to Julianne, contrary to what many believe, the city is actually "very family-friendly."
Thereare so many restaurants where we can bring our children. There areparks all over the city. We can go everywhere together. We live rightnear the Hudson River Park. The kids scooter around. We go to CentralPark where, on the east side, there's a big stone slide right above thechildren's zoo that the kids love. We have a place on Long Island wherewe go to the beach. The kids like that.
Now that the kids have reached an age where "no one has to take a nap,"Julianne says that the family is better able to travel together, andare debating a long-weekend trip to Paris. But — just like it doesfor so many families — life often gets in the way of their plans.
Wealways have the best of intentions; we don't always follow through. Youalways have the weekend with the back-to-back birthday parties and thehomework and you end up going nowhere. But that's okay. That's kind ofwhere you are with a young family.
Julianne and Bart have been married since 2003.
Source: PoshCravings.com