2007 Holiday Project Auction: Woobee, BellySock, and BabyLegs gift baskets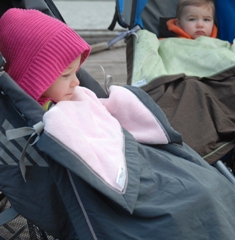 Woobee the ones you love! Woobee Kids blankets, bibs, and burps offer families the ultimate in luxury protection. All products are designed with a soft wind / water resistant nylon backing, gorgeous cozy front materials and are durable enough for daily use. Locally made in Seattle, Woobee Kids is committed to hip, useful, and high quality products for families to enjoy.
Woobee Kids blanket design is brilliant… grosgrain ribbon ties are sewn on allowing it to be attached to strollers, front pack, slings, infant car seat, anything really! Designed for the cooler seasons, you will soon realize how great the blankets are for all seasons. Use Woobee blankets as wind blocking towels for the beach, tummy time on damp lawns, and the perfect layer to have for air conditioned areas. Frequent flyer? This is the blanket for your trips. The cozy material is soft enough to wrap up and sleep in, the nylon backing protects from surfaces (great changing pad) and weather, and the ties mean you won't have to keep track of another thing.
Woobee bibs and burps are a must-have and made of the same wonderful materials as the blankets. Functional and fashionable they keep whatever is underneath clean and dry.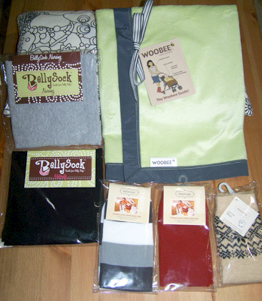 The PERFECT Gifts: BellySock, BabyLegs, and Woobee Kids!
There are two baskets, that are the essential gift for any mom-to-be or new parents.
#1 (left) – 1 Pistachio Urban Woobee blanket, gender neutral BabyLegs, and 2 BellySocks maternity and nursing, value $188
#2 (right) – 1 Lilac Woobee bib, 2 lilac Woobee burps, girl style BabyLegs, and 2 BellySocks maternity and nursing, value $168
Click here to bid on these and other great packages we are auctioning, benefiting the Newman Breastfeeding Clinic & Institute (NBCI).
---

This year's project, A Month of Auctions, benefits the Newman Breastfeeding Clinic & Institute (NBCI) atthe Canadian College of Naturopathic Medicine in Toronto, run by worldrenowned breastfeeding advocate and pediatrician Dr. Jack Newman. Theprimary function of the NBCI is to assist breastfeeding mothers andtheir babies with breastfeeding challenges. It also provides clinicaltraining for pediatric residents, medical students, nurses, andcandidates for those who intend to become International Board CertifiedLactation Consultants. As the NBCI no longer receives funding from theCanadian government, it is in danger of closing, having already reducedits hours. Even though the center is in Canada, their work and websiteis an amazing resource to all nursing mothers and those who wish tohelp them.