2007 Holiday Gift Guide: For her

Mom, grandma, sister, aunt, cousin, friend- she deserves it!
Bookmark this page and come back regularly!
This Holiday Gift Guide is sponsored by My Life In Cards.

Take the ho-ho-hum out of your holiday greetings this year with fun, new styles from My Life In Cards.All stationery products are professionally printed on cardstock, notthat oh-so-ordinary photo paper. Our designs are double-sided for thatextra wow factor.
Use code JOY2007 for 10% off all your stationery needs thru Dec 31st.
---
For the artsy mom

To this day there is no piece of jewelry I own that I like better than my Thumbprint Necklace from Magic Dog Studioline – a line of handcrafted and custom-made jewelryand home decor. This is not your typical "mom's" jewelry withbeads and birthstones. I like to refer to it as "wearable art." Ican't imagine any new parent not loving this gift — even a giftcertificate would be great.
CBB Deal: Get 5% off your order through by entering code CELEBRITY.
(Teba)
For the breastfeeding mom

First-timemoms are usually really shy about nursing in public so nursing coversare usually very appealing. The problem is that they are usuallyreally ugly so the nursing cover from Bebe Au Laitis always a great gift. They're also a great choice because even momswho never end up using them for public nursing will find other uses forthem (like pumping in the car!). I always gift this to new moms andfind that they are always really happy because they are not onlyuseful, but also so pretty.
(Teba)
Moms/Grandmas

Teething Bling by SmartMom is funky & functional jewelry your baby can safely bite, for moms& grandmas who will be cuddling their 3-12 month olds. I've giftedthis to four people, all of whom gushed their thanks!
CBB Deal: Get a free bangle with every pendant purchase (a $12 value) by entering coupon code CBB07 at check out through 12/31/07.
(Reva)
Nursing moms

L'ovedbaby's 4-in-1 Nursing Shawl is a stylish, discreet, comfortable and easy to pack in a diaper bag. The perfect cover up when you need it.
CBB Deal: L'ovedbaby is offering CBB readers 10% off their orders when they enter Voucher Code CBB holiday until December 26, 2007.
(Reva)
For the bagaholic fashionista mommy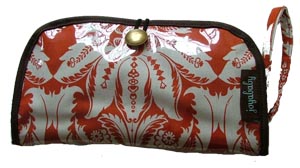 A Joyababy diaper clutch freesup her entire bag wardrobe for daily use. No more dragging along adedicated diaper bag when she can still use all of her favorites withthis handy and attractive clutch tucked inside.
CBB Deal: Save 10% with the code CBB10
(Ciaran)
Jewelry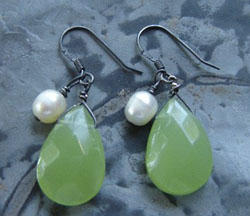 I'm such a sucker for green stones. These vintage limone earrings from The Vintage Pearl feature antiqued silver posts and wire, green faceted stones, and a white freshwater pearl.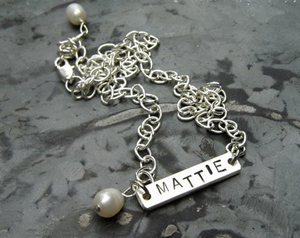 This stamped silver and pearl ID necklaceby The Vintage Pearl is a modern update on the nameplate necklacerepopularized by Sex in the City. Comes in child through adult sizes.
CBB Deal: Use code getsilly to save 15% on these and other pieces at TheSillyWagon.com.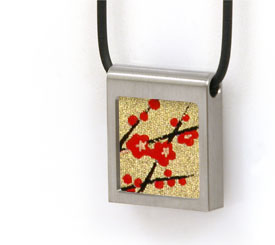 I want… no scratch that, NEED lots of Blend Creations' jewelry in my accessory arsenal. It's exactly my style and it took my breath away the first time I saw it. I love the modern, clean lines, that have a strong, yet feminineappeal. The jewelry collection sets itself apartfrom the rest by 'blending' different "warm" elements not normally seen,with "cold" stainless steel. Their jewelry blends include pairingstainless steel with elements like bamboo
, vintage mah jong tiles, mother of pearl and even coconut. My favorites are their newest collection of foliage necklaces that were recently featured as a Cool Mom Pick, and the round Japanese washi necklaces. They're the perfect gifts for your best friend, your sister, your mom or even better, yourself!
CBB Deal: Use code CBB15 for 15% off your next Blend Creations order of $50 or more.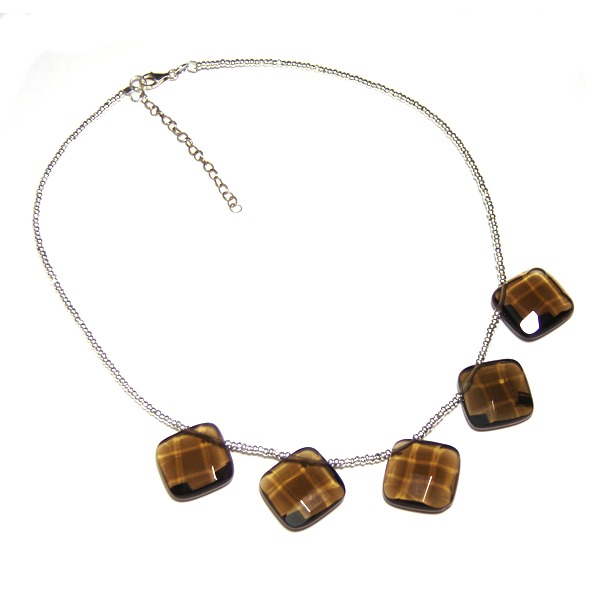 Even if you can't find a piece among Berit Designs' two lovely collections, Globetrotting and Celebrations, did you realize that she can work with you to create a custom pieces? I love peridot but it can be hard to find so I had her create several pairs of earrings and necklaces for me. I love her simple yet sophisticated style!
CBB Deal: Use coupon code CEL20 at checkout for 20% off.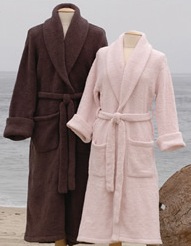 If mom's bathrobe is threadbare, check out Barefoot Dreams' CozyChic robe. It's found at 5-star resorts and spas and is a favorite among celebrities, but best of all, it's machine washable and won't shrink, pill or wrinkle and actually gets softer every time you wash it.
CBB Deal: Save 10% when you use coupon code CBB.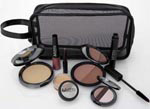 Weall know women who have been using the same makeup for 10 or more years(um, that would be you, Mom) so wouldn't a new kit of make a greatgift? The Mommy MakeupPretty-n-Polished kit ($120) includes everything a lovely lady needs to do her whole face, and in 6 minutes.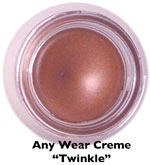 Their newest product, Any Wear Crème, is another multi-tasking masterpiece. Designed to be worn on the eyes, cheeks and lips, this incredibly versatile creme dries to a budge-proof, smudge-proof and waterproof powder finish. Available by itself or in the Jolly Holiday for Mommy Makeup Kit (which includes Any Wear Crème in Twinkle, a beautiful pink-gold with a hint of beige and shimmer, a Super Deluxe Fluff Brush for applying Twinkle to the eyes, and a Lush Black Mascara, all in a Chic Petite Black Mesh Makeup Bag). Also available is the Let it Glow, Let it Glow Kit, which contains a Mineral Shimmer Powder and an Itty-Bitty Buki Brush, also a Chic Petite Black Mesh Makeup Bag.
CBB Deal: Save 15% when you use coupon code CBBHOLIDAY at www.mommymakeup.com. Plus shipping is always free for orders over $75.
Sure to please any teen girl or woman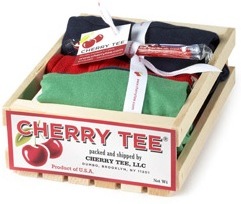 You can never have enough new t-shirts so any of Cherry Tee'sgifts will be appreciated by any female. Packaged adorably in smallwood crates, buckets, or totes, the tees inside are high quality at anaffordable price. Others in this price range tend not to retain coloror shape as long through washing. Plus every tee purchased, single orgift set, comes with a cherry candy… it just makes you feel special,like some thought actually went into it.
CBB Deal: Enter CBBCT10 for 10% off any purchase and free standard shipping on all orders $75 or more (through 12/10).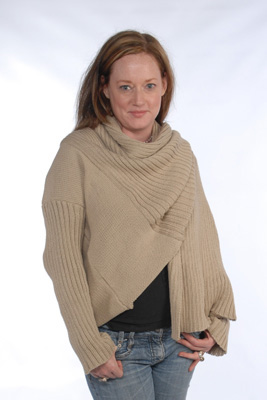 For women who are always cold
Perhaps because I'm always cold, I think Moby Wrap's Reversible Wrap Cardigan makesan awesome holiday gift. The handknit sweater can be worn 5 ways-scarf-style, off the shoulders, over the shoulder, and upside down(which makes it long). What makes it such a great gift is that it's oneof those one size fits all gifts. Though it comes it two sizes(small/medium and medium/large), I think it's fair to say that itreally fits anyone unless they are extremely tiny or big or long. Theirnewest sweater, a chunky cable knit shawl with big coconut buttons, is pretty cool too.
For your girlfriend who is always losing her keys or cel phone in her bag


Finders Key Purse keepsyour keys or cel phone tethered to the top of your purse or diaper bagso you never lose them in the abyss again. The decorative/charm sidehangs out of your bag while the other hangs in your purse- just hookyour keys on
it. Gravity keeps the keys inside and the decorative partkeeps it easily accessible. It also works with briefcases, pockets andbackpacks. They come in over 50 charm styles and for only $6.95, everywoman I know is getting one for the holidays! They also have ones justfor cel phones.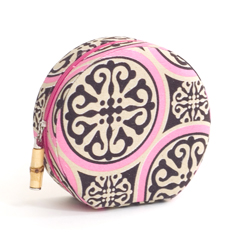 For my birthday this past year, my husband gave me a leather jewelrytravel case- something I would not have bought for myself but isgetting a lot of use. Small and compact, they hold your jewelry andlook pretty. What woman wouldn't like one? Toss Designs makes a great round one in several patterns- the Menlo Corduroy is my favorite. Pair it with the coordinating Vanity Tote for the perfect travel gift. ($22-46) (Be sure to check out their other items because they are all wonderful giftables.)
Save 10% at tossdesigns.com when you use coupon code cbblog through 11/30/07.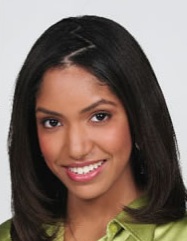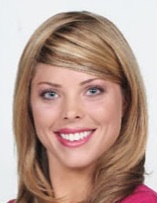 Eliminate bad hair days with the Styl Styk Hair Part-ner.This hot pink comb-like tool helps create parts that will give hairvolume, hide dark roots, and produce snazzy but simple hair styles forgirls and women of all ages. It's one of those things you might see onan infomercial but it really works! I'm a total spazz and I can doit. For $17.95, you get two combs that help you create 14 differentstyles including zigzagging and offset parts. I love that their websiteincludes how-to videos.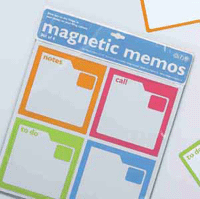 Take notes on your fridge, filing cabinet or locker with these fun magnetic memos from LiViNG Goods. A set of four of the 4" square write-on/wipe-off magnets will only set you back $14 at OnlineOrganizing.com.
For the hostess with the mostess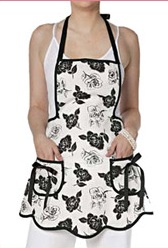 Using vintage-inspired prints and styles, Jessie Steele apronsare a great gift for women and their children. Hearkening to the daysof our grandmother's days, these aren't aprons to cook in; they're forentertaining. You can dress up a simple outfit while serving to keepyour clothes clean and feel cute doing it. The A-line and bias cuts areflattering to a wide array of body types and the fabrics are socharming that they are sure to please anyone. And unlike the DonnaReed-stereotype of the 40's and 50's, when we don these aprons andplaying hostess, we're doing it because we want to.
They also make a half-apron, an apron suitable for cooking and BBQing (in more "masculine" prints), miniature versions for your favorite rugrat, plus coordinating tea towels, oven and pott mitts which enables you to put together a great gift.
CBB Deal: Save 15% at LaylaGrayce.com on any Jessie Steele apron when you use coupon code cbbjessie (case sensitive, all lower caps) through 12/31/07.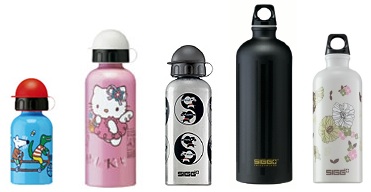 I predict that Sigg bottles are going to be the hot stocking stuffer this year for kids, teens, and adults. They're durable,leak-proof,and suitable for all beverages juices, energy drinks and more plusthey're non-toxic, dishwasher safe and environmentally friendly. Pickup one for every member of your family and stop buying individualdisposable water bottles. For the toddler, how about the 0.3L Maisy with optional handles, for the little girl, the 0.6L Hello Kitty, for your too-cool-for-school son, the 0.6L Ninja, and for your thirsty husband, a 1.0L Classic. Don't forget to pick up a super styling Lifestyle bottle for yourself, your mom, your sister, best friend, etc.!
CBB Deal: Save 10% on your order at mysigg.com when you use coupon code SIGGhead777.
For the coffee lover who lacks patience

Oh how I love my Keurig Single Cup Coffee Brewer! I rarely experiencesuch adoration for kitchen implements but this machine has earned it.As a busy full-time work at home mom, I require three things-caffeination, speed and easy clean-up. The Keurig machine provides allthree. I'm now on my second machine and I love how easy it is to make a delicious cup of coffee.
CBB Deal: Email Phil at OneKup.com and mention CBB to save $10 plus 10% off the price of any Keurig brewer.
For people who love candles and
everyone else
I bet nearly everyone on your list loves candles, from the hostess with the mostess,the hard to shop for in-laws, the world traveler, to the girly-girl.At $25 and under, with alluring scents, the following are a greatpersonal gift as well as a good last minute gift to stock up on.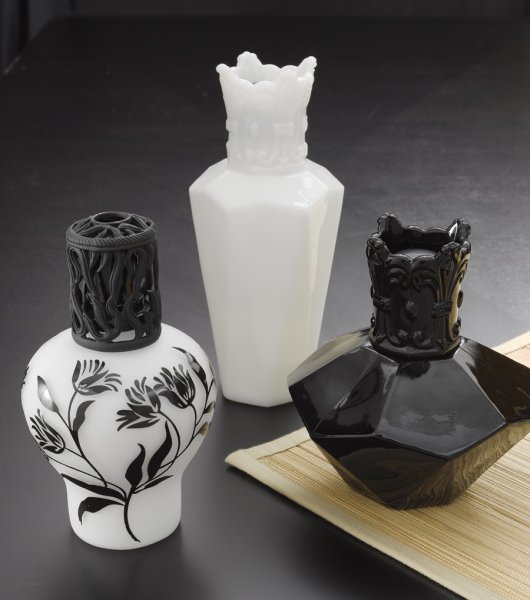 I recently discovered La-Tee-Da!'s line of gorgeous lamp collections.With most candles, the packaging is almost an afterthought, but withLa-Tee-Da!, the beautiful glass is almost as important as the scenthoused inside. With a menu of over 30 custom-blended sophisticatedfragrances, their lamps are as delicious as they are lovely. Theirfragrance lamps, which, using a catalytic technology and a lowtemperature, flameless wick, replace unwanted smells with wanted ones. Their reed diffusersdisperse fragrant oils along straw-like reeds without heat or flames,making it a very safe option for families with children or people whoforget to blow out candles. And, not content to simply offer a waxcandle, their effusion crown candlesinclude a ceramic crown on top of the candle that releases a matchingfragrance that enhances the scent of the clean-burning food-gradeparaffin wax candle.
You can't purchase their products on their site, but you can find a store near you or buy online.
My husband always teases me aboutwhat I'm baking because our apartment frequently smells of vanilla-ydesserts. If you're a fan of Yankee Candle Company but want something a little more sophisticated, you'll enjoy DIRT Candles.They are not only deliciously scented but make me feel a little betterabout burning them because they are made of biodegradable soybean waxand natural scents.
CBB Deal: Buy one get one free with coupon code BOGO1107 through December 2007.
Petal Candlesare made from a premium soy-beeswax blend and arefragranced with essential oils and fragrance oil blends. The wicks aremade from organic cotton and the glass containers use recycled glass. Itried Fig Blossom, Noel (a holiday must-have), Lush, Sugar, Tarocco,Pod, and liked all of them. Thirteen ounce jar candles are $25 or mixand match 3 oz. glass votives and/or 2 oz. travel tins. They'll wrapthem for you but the jar candle comes in a pretty box that you can justpop a bow on and call it a day.
CBB Deal: Use coupon codeCBB, you'll save 20% PLUS orders of $100+ receive a free 2oz NoelTravel Tin and orders of $200+ receive a free Noel 3oz Glass votive andfree 2oz Noel Travel tin.
For even more gift suggestions, visit CoolMomPicks.com.