Dutch model Touriya Haoud talks about life with Greg Vaughn and son Jathan
Dutch model Touriya Haoud, 30, talked to the Dutch newspaper Telegraaf about her life in Hollywood with husband, General Hospital actor Greg Vaughn, 34, and their son Jathan James, 6 months. Touriya says that life as a wife and a mother has changed her a lot.
I've grown a lot as a person. My life in the Netherlands was a lot more superficial. Now I know so much better what life is all about.
Her life isn't as glamorous as it seems although she lives in Hollywood.
I spend the entire day with the baby. I'm constantly being drooled over and I'm enjoying every minute of it.
Touriya and Greg were married in June 2006.
Click below for a photo of the entire family!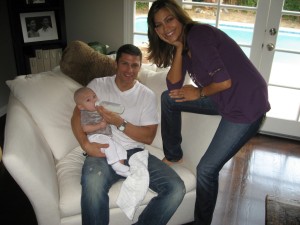 Source: Telegraaf
Thanks to CBB reader Veronique.