Giada De Laurentiis expecting first child — a baby girl
TV Chef Giada De Laurentiis announced this morning on the Today show that she's expecting her first child with her husband Todd Thompson, a clothing designer for Anthropologie. Due the first week of April, she said that the baby is a girl and that she is 18 weeks along.
Having been married to Todd since 2003, and dating since 1991, Giada, 37, said it was all anyone ever asked her — when was she was going to have a baby.
Every single person, every book signing I do, every public appearance,my friends, everybody all tell me the same thing: 'Youknow you're getting older! You can't have children forever!'
When Giada finally did get pregnant, it was a complete surprise.
When I found out I was pregnant, I was in complete shock. Just shock. I truly didn't believe it. I honestly thought, 'there has got to be a mistake.'
When asked about her cravings, she joked that she now hates pasta but then said she actually loves starches. She's over morning sickness, but said that she was having a rough time in August when she appeared on the Today show.
They followed her to a checkup with her doctor who told her that at this stage, the baby weighs 5 ounces and is 3-5 inches, about the size of a pen. Describing her sonograms, Giada revealed,
When I had my first one, it looked like alittle lima bean. The second, I think looked a little bitlike a lemon. But today — fingers and toes; I saw ears and lips. It brings tears to your eyes.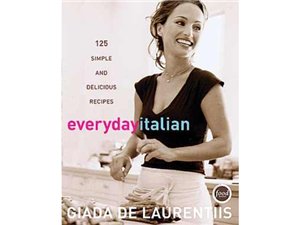 She hosts the show Everyday Italian and is a contributor on the Today show. She's authored three cookbooks, including Everyday Italian: 125 Simple And Delicious Recipes For Dinner Tonight, Giada's Family Dinners, and Everyday Pasta.
Source: Today
Thanks to CBB readers Maya, Cara, Heather, Christina, and Jennifer.
Click below to watch a video of the announcement.

Giada's baby surprise!