Celebrity parents wowed by New Native Baby Carriers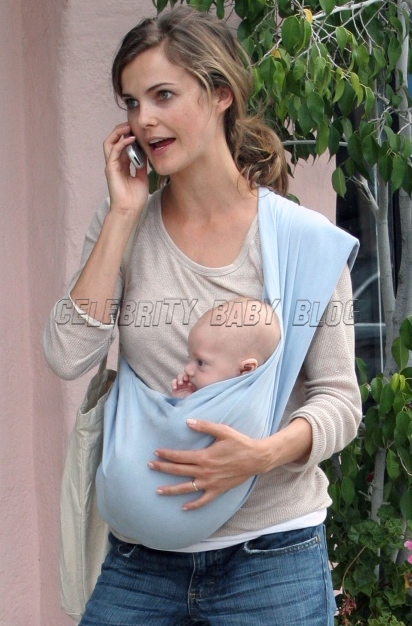 Keri Russell, new mom and babywearing convert, is often photographed wearing her son River Russell Deary in a New Native Baby Carrier. She had received the carrier in a BabyMakes3 BopStarBaby gift basket and loved it so much, her rep contacted New Native for additional carriers for her and her husband Shane Deary. Showing her thanks, Keri sent a note to New Native founder Nancy Main, stating at the outset of her note, "We love your sling." She elaborated,
First of all, it's very user friendly–no buckles or straps–just off and on. Our baby loves to be in the sling. I wear him for a good portion of the day in it. And especially living in New York City, where you walk so much, the sling comes in very handy. He naps in it, comes to restaurants with us in it and is also able to be close up against me while still being able to look out at the world- being able to see and be stimulated by his surroundings but in a cozy familiar protected cocoon within the sling. So- thank you. We love it! And Shane wears his too!
The New Native is a pouch-style baby carrier that can hold baby in the front, side or back. Pouch fabrics include 100 percent cotton, organic cotton and silk, with no buckles, padding or metal rings. Fabrics are selected for strength, durability, comfort and style, and contain no synthetic Lycra stretch-they neither stretch nor lose their shape, and are extremely durable- parents often comment that the carrier has been used from their first through their third child. The Monterey Bay Area Green Business Program has certified New Native as a green business. They are also made in the USA by workers paid fair wages.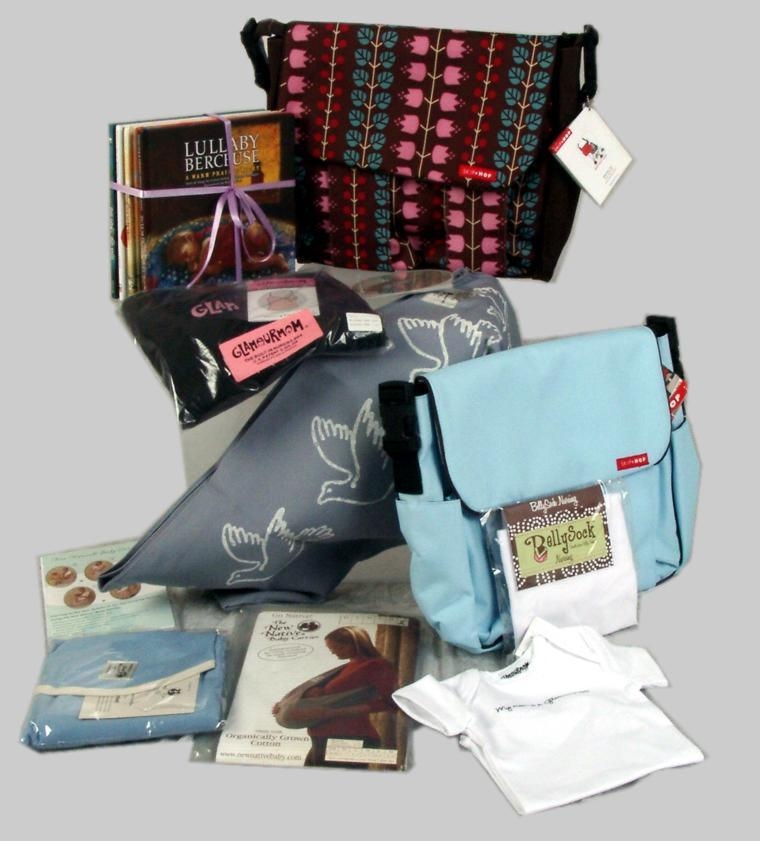 As part of the BabyMakes3 gift baskets, New Native includes carriers for both parents, an instructional DVD and a coupon for an infant support pillow to use with the carriers. Sharon Stone also received a BopStarBaby basket and called to order more, in navy, black and khaki. Among the celebrities that have redeemed their coupons for the infant support pillows: Backstreet Boys Kevin Richardson and his wife Kristen, Patrick and Jillian Dempsey, Annabeth Gish and Holly Marie Combs.
Brad Pitt and Angelina Jolie received a basket with a black New Native carrier upon daughter Shiloh's birth, and sure enough, Brad was spotted wearing her in it in New Orleans. Other celebrities spotted wearing New Natives include Brooke Shields, Carrie Ann Moss, Rachel Weisz, Kate Hudson and Cindy Crawford. Cindy was actually the first celebrity mom to embrace New Native and demonstrated the carrier during an appearance on Good Morning America.
Other celebrity parents who sent their thanks for their BopStarBaby baskets, especially noting the New Native carriers include Mark-Paul Gosselaar, Josh Turner, Brad Paisley and his wife Kimberly (who describe their New Native Baby Carrier as "a lifesaver"), and Natalie Hanson, wife of musician Taylor Hanson, who exclaimed: "I especially like the New Native carrier. River is so content in there!" White Stripes/Raconteurs Jack White and his wife Karen Elson received BopStarBaby's Big Sister basket which included New Native children's toy/doll sling for their daughter Scarlett, and Karen wrote that their Scarlett, "loves the New Native children's sling as she can hold her baby while mama holds hers."
BopStarBaby BabyMakes3 basket photo credit: Libba Gullum