Alison Sweeney blogs about Ben's Halloween adventure
When Nov. 1 dawned, 2 1/2-year-old Benjamin Edward Sanov remained blissfully unaware of the power of chocolate thanks to some quick thinking by his mom, actress Alison Sweeney. In a new post to her blog, Alison wrote about how she and husband Dave Sanov "loved every minute" of Ben's first 'real' Halloween.
Click 'continue reading' for the full entry, and a picture of Ben in his costume.
I hope you all had a fantastic Halloween. It was such a fun night for us with Ben this year. This was the first time that he really understood the concept of knocking on the door, saying 'trick or treat' (when prompted) and receiving a gift. I really don't let him eat candy at all, so it was hilarious to see him carefully select a piece of candy from each bowl, because he had no idea what he was choosing. But seeing the big kids get candy gave him a good idea that it was something he wanted! My one saving grace was one lovely woman who gave him a little packet of mini-graham cracker type cookies, so when we got home, I pulled those out of the bag, and said this is what you got! Yay Halloween, and then dumped the rest of his loot into our out-going Halloween bowl. Is that mean? I don't know, I just want to delay his interest in candy like that for as long as possible. And since he doesn't even know what it is, why introduce him to all that junk?

But the best part of the story is that he was a lobster. Yes, a lobster. Now, maybe if you're living in Maine or Massachusetts reading this, that seems normal to you. However in LA at least, it's a pretty unique costume. And as a result, everywhere we went kids and parents would say 'oh, there's the lobster!' like it was a hot piece of gossip that spread throughout the trick-or-treating neighborhood like crazy. And he was a super cute lobster if I do say so, myself. He insisted on wearing his squeaky shoes too. He has shoes that squeak when he walks or jumps, I thought they were SO cute when we got them for him. Ha. Now they are the bane of my existence. Anyway, he loves those shoes and so off we go, squeaking up every walkway on our street. And he loved every minute. So did we, frankly. It was such a fun night, taking him around to the homes with such fantastic decorations. We had pretty good decorations…I won't say 'great.' I've had better years. Last year I went nuts with Martha Stewart ideas for decorating, but this year I was grateful for the time to carve one pumpkin with Ben. (a spider). He was pretty into it at first, but then got sick of playing with the slimy insides and ran off, leaving me to finish the messy project solo.

This weekend is all about taking down the decorations and getting ready now for the big holidays. I love decorating for Christmas, and this year, I'm ready. Already. Usually I say 'it's too soon, where has the time gone?' but this year? Maybe because it's been so warm and I am psyched for it to be really winter, or maybe just because I am SO ready to have Ben get the whole Santa thing, but I am definitely ready to get my x-mas tree lit.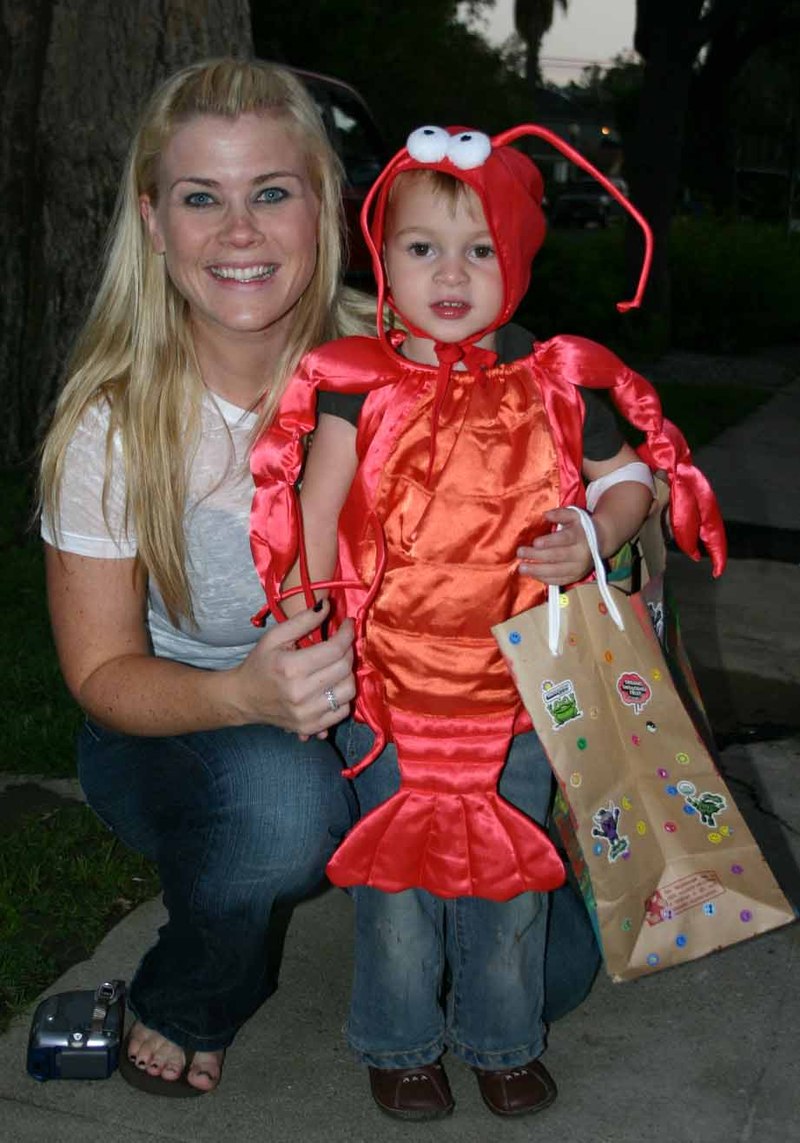 Source: Alison's Blog