Update: Win a $50 gift certificate to WestVillageKids.com
Update: We sent out the message. Please fill out this entry form by November 5 at 12 pm EST.
Sign up for CBB Mobile Alerts now so you can be entered to win future mobile-only giveaways! See instructions below.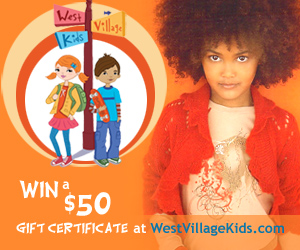 Sign up for our free mobile alerts and be eligible to win one of four $50 gift certificates to WestVillageKids.com!

Here's how to enter.
Step 1: Sign up for our mobile alerts by 10/31/07 11:59 pm EST.
Step 2: After November 1, we will send out a secret mobile alert message with a special message. When you get it, fill out this entry form by November 5 at 12 pm EST with the secret message and you're entered to win!
The alerts are free but your provider may charge you a per message fee.
Sign up now!
To sign up, just text cbbnews to 44636, click here, or enter your cel number below.
Things we send text alerts for:
-Pregnancy and birth announcements for big celebs
-CBB Exclusives
-Text alert-only giveaways (like this one!)
-Other MAJOR news
Things we don't send text alerts for:
-News about soap opera actors, royalty, foreign celebs, athletes, models
-Fashion stuff

About WestVillageKids.com
West Village Kidsis an online boutique featuring hip brands for kids, ages 8 and under.Several of the brands are celebrity favorites. Have you seen Madonna's son in MishMish, Julianne Moore's son in Diesel, and Kim Raver's son in IKKS? Have you seen Julia Roberts, Naomi Watts, Tori Spelling, Patrick Dempsey or Jason Priestley's little ones wrapped in Aden & Anais muslin swaddle blankets?
WVK strives to bring the best in fashion and customer service.Parents can mix and match or choose an outfit that Founder, Michellehas put together. Renowned for providing "Pre-Orders" of upcomingseasons, Michelle keeps her customers a step ahead and announces stylesand trends in her monthly newsletter. She also offers free personalshopping services, gift registry, and flat rate shipping (Yes- evenfor international clients!)
These are just a few of the popular and unique designers carried atWest Village Kids. Aden & Anais, BabyBonkie, Bengh, Cakewalk,CC'sRags, Charabia, Chipie, ColletteDinnigan, Confetti, Diesel,Halabaloo, IKKS, JeanBourget, Jottum, Marese, MissSixty, Oilily,PomD'Api, PuraVida, Replay&Sons, SaveTheQueen, WildSouth and more.
Exclusively for CBB Readers: Use coupon code CBBMOBILE for 15% off and FREE gift wrapping.