Poppy Montgomery celebrates her baby shower, anxiously awaiting son's arrival
Without A Trace star Poppy Montgomery, 32, and her boyfriend, actor Adam Kaufman, are anxiously awaiting the arrival of their son, due in mid December.
While they wait, they celebrated their baby shower on Saturday, October 20th in Los Angeles, joined by family, friends, and — of course — the WAT cast.
Click below for the photos and interview highlights.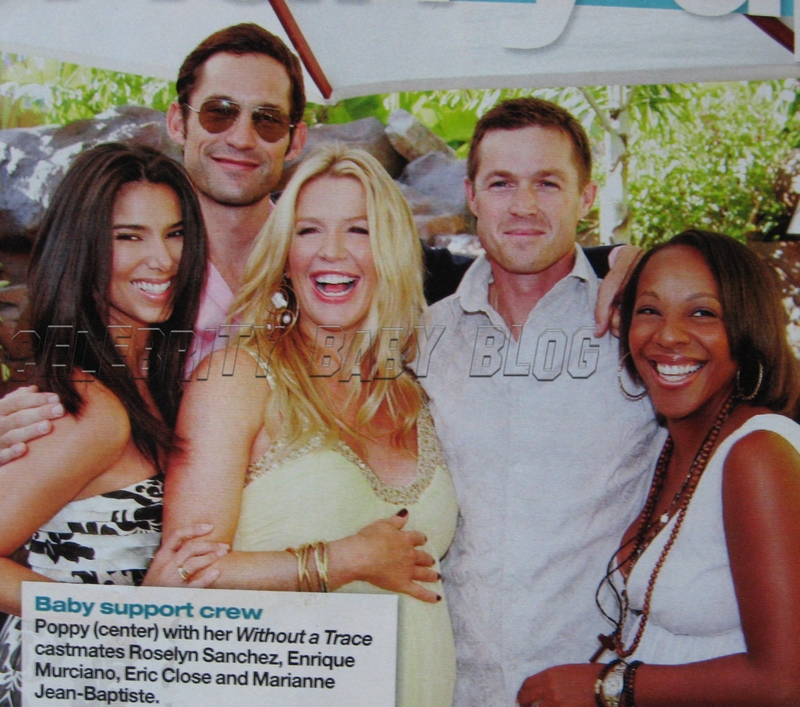 Joined by co-stars Roselyn Sanchez, Enrique Murciano, Eric Close, and Marianne Jean-Baptiste, Poppy and Adam enjoyed mini-hamburgers, cupcakes, and milkshakes while receiving tarot card readings — Adam's said that 'the baby can't wait to come out.' The dad-to-be agrees:
I just can't wait for him. I feel like we've gotten a bit bored because we've past every milestone there is!
Poppy is staying positive as her due date rapidly approaches.
I'm feeling really good. I'm getting tired toward this last stretch, but I've had a great pregnancy.
Keeping Poppy in a great mood is the filling of her cravings — toast and Vegemite attacks at 2 a.m., and lots of sweets.
If I had my way I'd eat M&M's, ice cream and caramel for every meal, but my doctor won't allow it!
Poppy and Adam have been keeping busy preparing for their son — the nursery, decorated in a yellow, mint-green, and bumblebee theme — is completed, and now they're focusing on narrowing down their name choices.
We have a list of about 10!
Poppy, who has continued to work on Without a Trace during her pregnancy — despite being shot 'only from the collarbone up' — has recently been joined by her boyfriend on set. Adam has a small role as a one night stand of her character's.
It's funny because I forget his name in the morning and tell him to leave! We'll be working together for 5 or 6 episodes, which is cool. And we can show the baby the film when he's older!
As the shower's sponsor, Huggies gave a large amount of diapers to Poppy and Adam, which were donated to the Friends of El Faro Orphanage in Mexico.
Poppyworked with event planner Jo Gartin to make it a family friendlyparty. They had a milkshake bar, a cookie decorating area for kids, areptile show, and a fort that Huggies built. For the adults, there was afortune teller, rosemary bellinis and lavender sangria. Hors d'oeuvreswere passed on Etch-a-Sketch trays, or served in little red wagons. There were also piping hot mini donuts handed to guests as they claimedtheir cars at the valet!
Source: OK! Magazine, November 12th issue, p. 40-41.
Photographs by Caroline Grayshock.
Poppy wore A Pea in the Pod's sequin silk chiffon dress in yellow ($300).