Christina Aguilera confirms pregnancy, 7 months in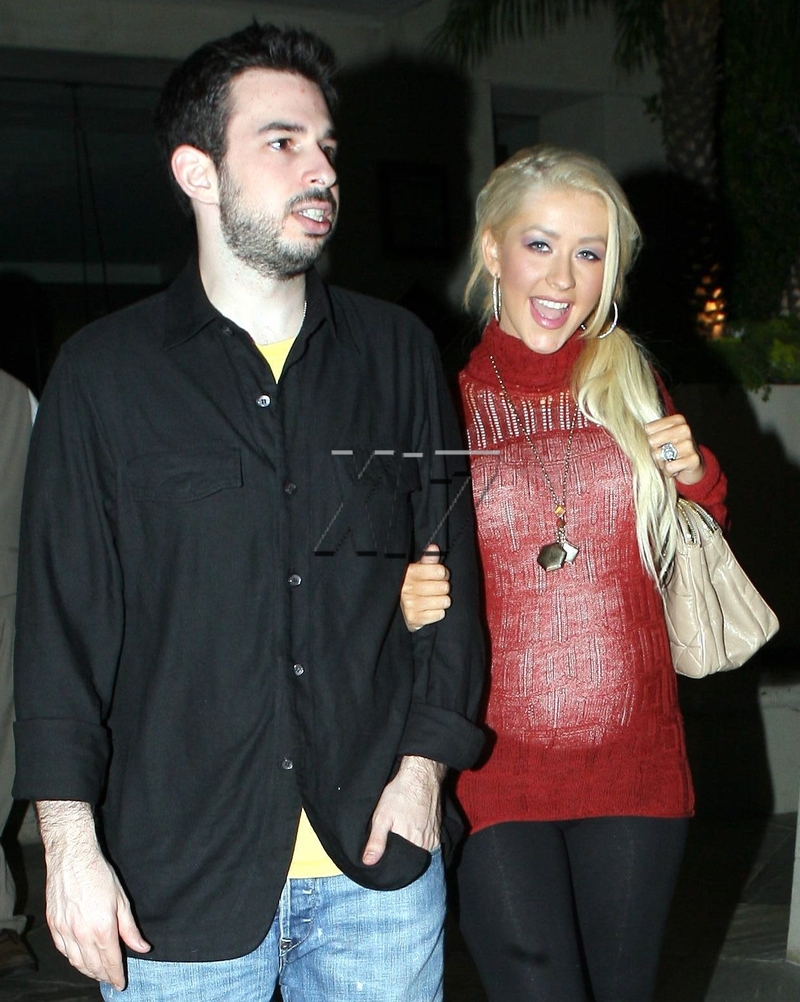 Despite swirling rumors that began back in June, confirmations from Paris Hilton, and the now-obvious baby-belly she's been sporting, 26-year-old songstress Christina Aguilera has thus far remained close-lipped on the subject of her impending motherhood.
Until now, that is. In an interview with Glamour magazine, Christina shares a little — but not too much. When asked about any New Year's resolutions for the Dec/Jan issue of the mag, Christina whispered to the interviewer,
That'll be about the time I enter into mommyhood, so…I'm hoping to have started a beautiful family with my husband!
Parenting is of primary concern to Christina.
I want to get it right, to balance that well with my career.
Husband Jordan Bratman, however, is a subject on which she's willing to share openly.
He's thrilled! He's just great. He's so supportive and amazing through everything. Hecame with me on the last leg of the tour and he was my supportsystem…I gush. I'm a lucky girl.

When you get married and have a team mate inlife, you don't have time for the people around you that are just goingto weigh you down. I'm all about peace and keeping people that are honest and loving in my life.
The couple expect the baby in early January. They know the sex, but are not sharing.
Click below for Christina's thoughts on her career.
Many have asked Christina how she's managed to stay above the fray, when many of her peers in the music business and Hollywood are having trouble staying clean and keeping their priorities straight. Christina reflects,
When you hit 20 or 21 and you're around drugs and alcohol, everyonehas a moment when they like to dabble in it and express themselves. It's called being young, but there is a boundary.

You see allof these horror stories about people that have died of drug overdoses,people that have taken it too far and ruined their lives, and for me, Ihad so many things that I had yet to accomplish. It was just a matter of thinking, I don't want to waste any time, and sticking to the plan.

Everyone has their own ways of choosing what's best for them. I have no problem with telling someone, 'Hey, I have to do a showtomorrow — you can relate to this as an artist, I want to do a good joband be on my game'.

Sometimes I wish I could go out to a party or a cluband just be able to be free, but there's a consequence with thetemptation. You know you'll feel it the next day when you wake up. Thereare too many things I have to accomplish.
However, that's not to say Christina didn't draw headlines of her own in the past. Back in 2002, the 'Genie in a Bottle' singer stormed back onto the scene with her new album Stripped, which featured her topless, tattooed, pierced, and wearing chaps on the cover. Of that period in her life, Christina laughs,
I definitely stirred the pot a bit, but I had fun. If it's under the mark of respectability then it's prudish, if it'sover the mark, it's slutty. That's really unfair, so I'm happy I've been able to expressmyself and be on both sides. People have loved it, hated it, beenundecided, and been empowered by it.

I was 21 and possibly when I'm 60, if I can still fit into [the chaps]…at the end of the day, I can say I had a frickin' blast…a f–king blast!
Source: Glamour via The Daily Mail
Thanks to CBB readers Beverly, Sarah, and Kimberly.