Ryan Sutter just 'not equipped' for late night feedings, Trista talks cravings and more babies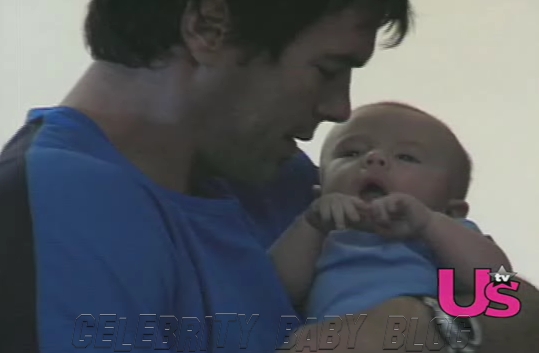 Bachelorette couple Ryan and Trista Sutter, married 4 years next month, sat down with Us Weekly for a video interview during a recent photoshoot. Son Maxwell Alston is now 3 months. Here are a few highlights:
Trista was diagnosed with gestational diabetes in her seventh month, leading to some dietary restrictions. Nevertheless, she wanted some things not usually on the menu.
I craved a lot of things while I was pregnant. Pretty much any carbs or bad things I wasn't allowed to have, I wanted. Pickles….I really wanted pickles. And I never want pickles just alone. [I wanted] ice cream. [Ryan interjects '…Not your husband…' both laugh.]
After their son's scary start, Ryan is savoring the experience of being a first-time dad.
Max is great. Every day is new and exciting, and he just grows by leaps and bounds and becomes more aware and more conscious of his surroundings — it's fun to see. I help out changing diapers, I don't help out with late night feedings. I can't — I'm just not equipped, you know? [Trista mouths – 'He doesn't have these' and points to her chest.]
The couple hopes to expand their family — but not anytime in the near future. Trista explains,
We would love to have another baby, but we want to wait awhile. We want time with Max.
Source: US Weekly
Click below to watch the video, which has more highlights.