I really like Kalencom's kind-to-your-wallet line of stylish diaper bags. Their sophisticated design has gotten even better; they have reformulated the ingredients and manufacturing process of many of their popular styles in order to offer parents earth-friendlier diaper bags. All fabrics used in the line are AZO-free and no Phthalates, such as DEHP, DBP or BOP, are used in their popular laminated buckle diaper bags. I also love that they have not raised the price of their bags because of this change. (Read my earlier review here.)
Together with Kalencom, we are auctioning off three of their great diaper bags.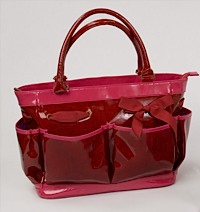 Cynthia Rowley Designer Diaper Bag in red/pink (a $240 value)
Contemporary Style Diaper Tote
Shiny Patent Leather
Grosgrain Ribbon Detailing
Personal Notebook Blotter
Multi Easy-Drop Full Size Pockets
Matching Thinsulate TM Insulated Double Bottle Case
Coordinating Zippered Pouch
Fold Out Changing Pad w/ Head Rest Cushion
Eco-friendly — Kalencom Diaper bags are AZO-free and utilize no Phthalates
Zipper Enclosure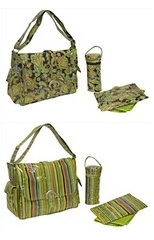 TWO Laminated Buckle Diaper Bags (each $70 value) – Choose from Multi Paisley Pistachio and Pretty Stripe Pistachio
A magnetic clip keeps the top flap closed
The laminated outer layer makes clean up a snap!
Roomy interior with pockets
Shoulder length straps
2 outside pockets
Matching insulated bottle bag
Coordinating zippered pouch
Large fold-out padded changing pad
Eco-friendly — the Quick Change Kit is AZO-free and utilizes no Phthalates.
Dimensions: 14"L x 6"W x 11"H
Click here to bid on these three diaper bags and the other great packages we are auctioning off.

---

This year's project, A Month of Auctions, benefits the Newman Breastfeeding Clinic & Institute (NBCI) at the Canadian College of Naturopathic Medicine in Toronto, run by world renowned breastfeeding advocate and pediatrician Dr. Jack Newman. The primary function of the NBCI is to assist breastfeeding mothers and their babies with breastfeeding challenges. It also provides clinical training for pediatric residents, medical students, nurses, and candidates for those who intend to become International Board Certified Lactation Consultants. As the NBCI no longer receives funding from the Canadian government, it is in danger of closing, having already reduced its hours. Even though the center is in Canada, their work and website is an amazing resource to all nursing mothers and those who wish to help them.