Update: Giveaway: What Haven't They Told Me? Practical Tips for Surviving and Thriving During Baby's First Year
Update:The winners are:
Julie from Fishers, IN, who said that she wished they told her that little boys fart a lot.
Kathy from Ann Arbor, MI, who said that she's pregnant with her first so she doesn't know yet!
Shannon from Andalusia, AL, who said, "I wish someone told me that not all babies are the same (especially siblings)."
Joy from Corner, GA, who said, "I wish someone had told me to rest morewhen I could and not try to be supermom by keeping the house clean, allthe laundry done and everything else a new baby entails. I wish I'drested more and slowed down more and enjoyed just being a new mommy."
Diane from Vero Beach, FL, who said, "If you are having a Jewish boy and having a bris… make sure you havean outfit that fits your 6 month pregnancy body for the event. Theclothing at 10 months is too big and your old clothing won't workeither. Also, have a rough guest list and phone numbers so once thedate and time are set your husband can make the calls while you nurse!"
---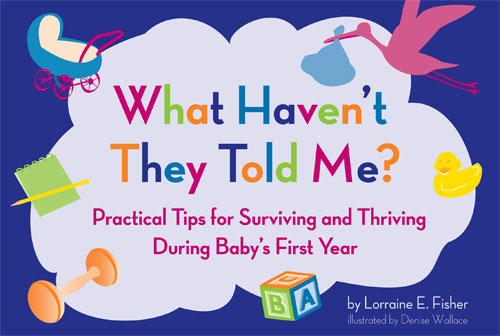 What Haven't They Told Me? Practical Tips for Surviving and Thriving During Baby's First Year
is an ideal baby shower gift, Mother's Day or Father's Day present for a new mom or dad. The book is a must-have for bleary-eyed parents of infants as they navigate their way through those first few daunting months. Divided into sections – diapering, traveling, sleeping, etc. – the book includes helpful hints from experienced parents (and grandparents) across the country. Small and compact but filled with useful tidbits of information, the book fits perfectly into a diaper bag or purse.
Exclusively for CBB Readers: Off Ramp Publishing is offering free shipping for all products purchased directly through their website. In addition, they are offering a 10% discount and autographed copies. Just use coupon code: CBB07.
Watch for Off Ramp Publishing's follow-up book in the What Haven't They Told Me? series – Surviving and Thriving During the Toddler Years – slated for publication in the spring of 2008. The first book is now available in 30 retail stores in 10 states across the country, as well as on Amazon and other on-line retailers.
Enter to win one of five copies of What Haven't They Told Me? Practical Tips for Surviving and Thriving During Baby's First Year. To enter, visit Amazon and find the answer to this question: What is the retail price of What Haven't They Told Me? Practical Tips for Surviving and Thriving During Baby's First Year? AND include a note about what you wish "they" told you about surviving and thriving during your child's first year. Email your answer AND full name and mailing address to celebritybabyblog@gmail.com.Make sure you put "What Haven't They Told Me?" in the subject line in order for your entryto be counted. Giveaway closes October 31, at 11 pm EST. (For giveaway terms & conditions, click here.)