Featured Review: Little Marmara Designs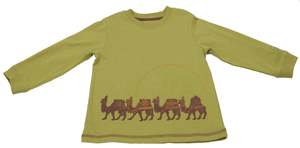 One thing you will notice about Little Marmara's tees, they are stunningly beautiful. These organic Turkish cotton shirts have low impact dyes and is free of scratchy tags. Designed for owner Gabrielle Ackerman's son, both boys and girls will love these gender neutral tees.
The company was founded in 2005, soon after the birth of Ackerman's first son, and the product launch is coinciding with the arrival of her second child. Little Marmara takes it name from the Marmara Sea, bordering Turkey (which my Turkish sister-in-law instantly recognized). This is a nod to the Turkish heritage of her children. "Each item draws its designs form the rich cultural, historical, and artistic motifs of the Ottoman Empire," according to the company's press information.
We checked out two of these tees. Ben wore the super cute green Deve Kervani (Camel Caravan), which retails for $28. My 2 year old niece wore the vibrant purple Alsan (Lion). The last shirt in the line is cream colored Leylek (Stork). Sizes for all tees run from 6-12 months up to 4T. The pictures on the website do not honestly do the shirts justice, they are much more intense and the designs are something to be seen! I can't wait to see what Ackerman adds in the future. Maybe some darling matching pants with the graphic?
Besides these cute tees, you can also get a coordinating pillows and pillow bags for $25. Their gift sets consist of a tee, pillow and pillow bag.
Get free ground shipping on all gift sets (to the lower 48 states).
Shop Little Marmara.