2007 Holiday Project Auction: Eva Lillian Maternity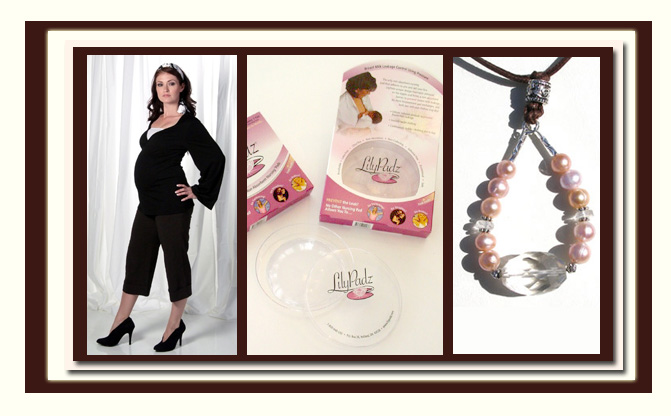 Eva Lillian Maternity is the sweetest spot to find anything a new or expecting mom needs. They carry the neatest mix of sexy fashions (like the super hot Condessa Nursing Bras) and natural parenting products and articles (like co-sleeping products and baby slings, and information promoting waterbirth and extended breastfeeding). There are the coolest maternity tees, funniest daddy tees, and cutest baby tees. And there are pampering products for the whole family. All this joined with their very own budding line of sexy nursing clothing makes this a must-shop hot spot this holiday season or year-round.
Because they so support breastfeeding and Dr Jack Newman's work, they jumped at the opportunity to offer a donation toward such a worthy cause. In doing so they offer you 3 great prize packages.
Packages 1 and 2: All-purpose $100 gift certificates. Pretty much any woman is going to find something that they simply must have.
Package 3: In the spirit of the theme they are also offering a nursing mom's package. Included is your choice of any Eva Lillian Nursing Top, 1 pair of innovative bra-free Lily Padz nursing pads, and 1 nursing necklace of your choice. A value of $72-144 (depending on which items you select). For more details, click Continue Reading.
Click here to bid on these three packages and the other great packages we are auctioning off. The bid for each starts at $10 and the auctionsend in 2 days. The value of each package is $100.

This year's project, A Month of Auctions, benefits the Newman Breastfeeding Clinic & Institute (NBCI) atthe Canadian College of Naturopathic Medicine in Toronto, run by worldrenowned breastfeeding advocate and pediatrician Dr. Jack Newman. Theprimary function of the NBCI is to assist breastfeeding mothers andtheir babies with breastfeeding challenges. It also provides clinicaltraining for pediatric residents, medical students, nurses, andcandidates for those who intend to become International Board CertifiedLactation Consultants. As the NBCI no longer receives funding from theCanadian government, it is in danger of closing, having already reducedits hours. Even though the center is in Canada, their work and websiteis an amazing resource to all nursing mothers and those who wish tohelp them.
Eva Lillian Nursing Shirts-Retail value $32.00-62.00
Super Soft Fabric
Made with incredibly soft stretch fabric, you'll want to sleep in these shirts. And you'll have trouble getting your baby to settle against anything else after she's been spoiled like this.

Style Perfect for New Moms
Our sexy designs flatter every bit of a new mom's body, while hiding anything she may be feeling self-conscious about in an a-la-What-Not-to-Wear style. Accenting a high waist, ruching across a less than Klumish post-partum tummy, more generous coverage for a new-found chest, and the perfect length to lengthen and slim the torso, all accentuate the beauty of a new mother.

Discretion Where it Matters Most
In our research, we learned that most women who had ever actually nursed a baby felt just like our owner. "Forget covering my breasts, cover my fat!" And we listened. Our full coverage underlayer stays put while you raise the top layer to nurse. And in our wrap styles it gets even better, with pull-aside access and a stay put versatile tube top for breast coverage. And the whole nursing shirt is long enough! Eureka, a non-crop nursing shirt for the person most likely to want to cover that exact area! You'll have to experience it to believe it.

Trendy Breastfeeding Advocacy
Logo shirts are extremely popular again this year. And we've brought it to nursing fashion. Show your nursing pride, just as you did in pregnancy, with powerful statements like "Sexy Nursing Goddess."

Our nursing access is unmatched. You've seen the competition. Obviously they've never tried to squeeze a size F breast through one of those little slits, while struggling with a nursing bra, trying to be somewhat discreet, while their "starving" baby screams loudly enough to draw attention from anyone in a one mile radius! And we heard from several mothers of twins, complaining of the impossibility of nursing two babies at once in a conventional nursing shirt. Not to mention the bulk of the extra layers is so obvious through the top layer. We said be gone!
Our nursing openings allow full, quick, and convenient access to both breasts, without obvious seams over the breasts. In our bottom-access tees simply lift the top layer, pull the neckline of the bottom layer under one or both breasts, and nurse away. In our wrap styles, pull the tube top up and the neckline aside. Belly, sides and back are covered, chest is covered, breasts are bare… It's that simple! And when you're finished it all goes back into its original position flawlessly. No stretching out and looking frumpy in our styles.
Transitional Style
Your favorite part of these clothes is that they'll get more mileage per gallon than any other piece in your wardrobe. They fit just as beautifully in early pregnancy, as they do in your sixth month, as they do in your first month post-partum and your 24th month post-partum. You'll wear these pieces 'til they fall apart.
The Best Nursing Clothing Ever!
Stylish, comfortable and infinitely convenient, our nursing clothing will definitely be your favorite pieces for any occasion.
Lily Pads Nursing Pads- Retail Value $19.95
Lily Padz nursing pads are the revolutionary alternative to traditional nursing pads, combining such unique features as flexibility, invisibility, and "stick-to-you-ability" to provide the kind of protection every expectant and nursing mother needs.
Inconvenient, leaky, and let's admit it "obvious" nursing pads are the last thing you want to worry about during and after your pregnancy. The special soft, flexible, and non-absorbent material in Lily Padz conforms to your breast for a secure fit, allowing you to wear whatever you like with confidence.
How do they work? Lily Padz nursing pads apply a gentle pressure on the nipple to stop breastmilk leakage, much like nursing moms have done with a forearm or fingers since the beginning of time.
Lily Padz nursing pads are washable and reusable. With proper use and care your Lily Padz nursing pads should last for months (up to 6 months or more).
Best of all, Lily Padz nursing pads go unnoticed under almost any clothing, they are usable in water (so, under that swimsuit), and they require no bra to stay in place (so you don't have to sleep in a nursing bra!).
Nursing Necklace-Retail Value $19.00-42.00

What is a nursing necklace?
Veteran nursing mothers will tell you, around 4 or 5 months most nursing babies begin to get very distractable. They become very aware of the world around them as they nurse, and they want to see everything that's going on. They will try to turn their heads while latched on, or equally uncomfortably, pop off and on repeatedly as big brother walk in the room, the cat meows, a car horn honks outside, etc.
The usually remedies for "distractable nursing baby", such as nursing in a dark, quiet room, aren't always possible. And twiddling with your hair or nursing bra aren't going to keep her interested for long. So, what do you do if you need to nurse the baby in public (and believe me the popping off, whipping their head around to expose you to the entire world, then whipping back to relatch will get really old, no matter how unmodest you may be) or in the same room with your toddler? You get a nursing necklace.
A Nursing Necklace helps keep the attention of "distractable nursing baby." It typically has interesting colors, shapes and textures. You want to encourage baby to keep her attention directed toward your body. A nursing necklace will do that, by encouraging her to play with it.
Not just for breastfeeding mothers
Anyone who spends any time around a baby, non-nursing mothers, grandmothers, child-care workers, etc, knows that from about 5-18 months you cannot wear jewelry! Your earings will be torn from your head, your bracelets jerked from your wrist, and a necklace is least safe of all. If you don't want it ruined, you don't wear it. That is the beauty of these necklaces; they don't break under the strain of everyday baby wear and tear, and they are beautiful, functional and fashionable just like everything else we offer at Eva Lillian.