Heath and Matilda Ledger out in NYC
Actor Heath Ledger, 28, who has said fatherhood is, 'exhausting, but it's a pleasure,' was spotted out with daughter Matilda Rose, 2, in NYC last Wednesday.
View the full-size image at Us Weekly.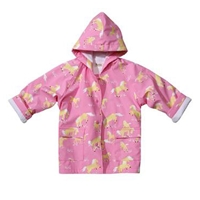 Matilda wears a Hatley's Horseplay Children's Raincoat
($32, plus free shipping with purchase over $55).