Daniela Spanic shows her ultrasound picture in a thank you card
Venezuelan actress and model Daniela Spanic, 33, shared an ultrasound picture of her unborn daughter, Katalina Nahum Spanic. She expects Katalina with husband Ademar Nahum next year. Daniela suffered from a brain hemorrhage in the early stages of her pregnancy but has now made full recovery.
Source: People en espanol
Click below for the picture and the thank you note!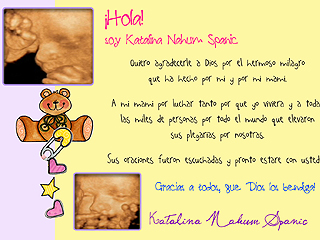 The text reads:
Hello! I am Katalina Nahum Spanic.

I want to thank God for the beautiful miracle that he made happen for my mommy and me.

For my mom for fighting so much so that I may live and to the thousands of people around the world that made their hopes heard for us.

Your prayers were answered and soon I will be with you.

Thanks to everyone, may God bless you!
Thanks to CBB readers Jason and Kitty.