Tori Spelling thanks husband for the 'greatest gift in the world'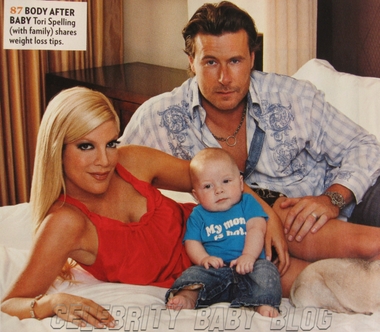 As she celebrates the launch of her second jewelry line with the Home Shopping Network, the survival of her bed & breakfast despite dangerously close proximity to the recent California wildfires and the second season of her reality-tv show Tori & Dean: Inn Love, actress Tori Spelling has much to be thankful for this holiday season. But it should come as no surprise to CBB readers that when asked in a recent interview what is the best gift she's ever received, son Liam Aaron, 7 1/2-months would be her reply.
My husband gave me our son! Hands down the greatest gift in the world.
In fact, Liam is an integral part of Tori's routine when she needs to wind-down from the stresses of everyday life. Said Tori,
I hang out with my son and just watch new life through his curious eyes. I could stare at him for hours — it calms me and really puts life into perspective.
Tori has been married to Dean McDermott since May 2006.
Source: GlamScene