Heidi Klum tells of Leni's love of makeup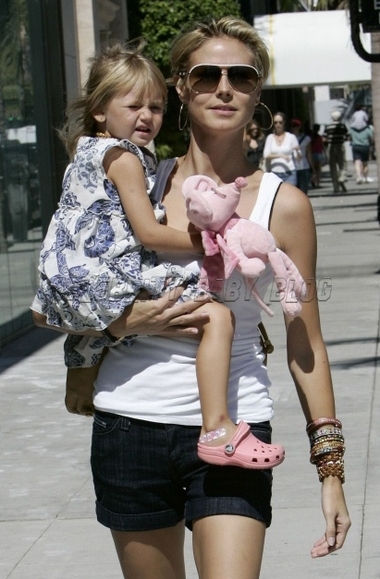 Supermodel Heidi Klum, 34, recently launched her limited edition makeup collection entitled The Heidi Klum Very Sexy Makeup Collection at Victoria's Secret stores. And while the mother of three can't guarantee it will be a hit, she does have a fan in daughter Leni, 3.
She's three and likes to have fun with makeup. But she doesn't put it on her face like we do. She likes to use makeup to make characters, like the kind they paint on your face at the Halloween pumpkin patch. Her favorite character is a mouse so she puts a big dot of black eyeliner on her nose and she draws whiskers. She also does a pretty good cat face. We have a book at home on making faces with makeup that she uses. So she's already very good at applying makeup. She's an early beginner.
After having had three children, Heidi looks amazing but it does take some work to keep her figure, she says.
I work very, very hard at it. It's not just the exercise. It's having to say no so often. Like, this morning I had to say no to these delicious-looking muffins. It was so hard. It's not easy sometimes.
Heidi and her husband, singer Seal, 44, also have two sons — Henry, 2, and Johan, 11 months.
Source: Star Magazine