Amanda Peet admits to being a 'drama queen' while pregnant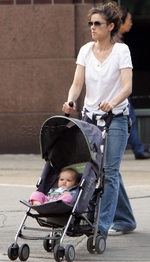 Most women will look back at their pregnancies and — eventually, over time — be able to own up to a few moments of sheer, unprovoked melodrama. Amanda Peet is no different. In a recent interview, the mom to 8-month-old daughter Frances Pen revealed that she was "literally a nightmare" as an expectant, first-time mother.
The second I found out I was pregnant, I got out of a chair stomach first … I was like a princess. I was like a pig in shit. I was like, `Get me more food, get me my bags, let me go home early.'
The histrionics weren't only reserved for Amanda's husband, screenwriter David Benioff, however. While shooting a scene with co-star John Cusack for their film Martian Child, Amanda took a tumble — and tears ensued.
I got really scared because I'd literally been pregnant for two minutes. The baby was probably the size of a little piece of grain and I started crying, 'John I'm pregnant! Could the baby be hurt?' He was like, 'Jesus, call your husband!' I was such a drama queen.
Amanda, 35, also said that even her food cravings managed to provoke some internal conflict. Although she initially was pleased by her newfound "big boobs" and "big bum" — which made the actress feel "delicious" — reality eventually set in.
I ate peas about five nights a week with 10 pounds of butter and 10 pounds of salt. I was so excited that my craving was so healthy until I realized it was the butter and the salt I was craving.
Martian Child opens this Friday nationwide.
Source: ContactMusic.com