Matthew Broderick on son James Wilkie's sense of humor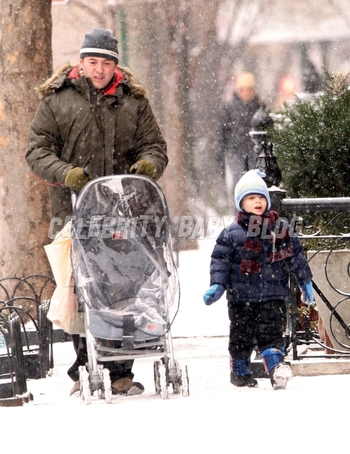 Actor Matthew Broderick, 45, sat down with Redbook and discussed numerous aspects of his life including his son James Wilkie, 5 on October 28th, with wife, actress Sarah Jessica Parker.
Click below to read about James Wilkie's humor and what Matthew does to get away from the job.
Matthew, who stars in the upcoming Bee Movie with friend Jerry Seinfeld, plans on taking his son to see the movie when it is released even if his son doesn't get all the jokes.
Yeah, definitely. I mean, my little boy is friends with Jerry's children, so there'd be no keeping him away. And I think even if something goes over kids' heads, if it's good, they kinda sense it and they laugh. Even if they don't really get it, I don't think that's so bad.
However, there is a good chance that he will like the movie as Matthew reveals that James is a little comedian.
He's just hilarious always. Kids are so funny how literally they take everything. And he does accents– Spanish accents, Irish accents. He's pretty good at those things.
Matthew doesn't know what children start to develop their own sense of humor but knows it must be pretty early based on his son.
That is interesting because right now it's — I mean James is four and a half, but he has one. Slapstick and stuff like that they start to think is funny. You know, the Roadrunner or whatever. And just now he's gotten puns, like he likes to say the wrong word in a phrase or a word that rhymes. So that's fun to watch. But it's still very rudimentary like, he wouldn't really know how to tell a joke or understand why a joke is funny. Except the very simplest joke.
Sometimes James finds things funny that his parents just don't understand.
He'll laugh uncontrollably about something and you'll say, "What's so funny?" and he's like, "Gee, I have no idea."
Matthew and Sarah are so busy with their work schedules, they try to travel to get away from it all, and, of course, James helps.
We travel. You know, the kid thing takes up a lot of energy and a ton of space. A lot of time is spent playing with him or taking him to see something or watching him swim. He just takes up a lot of time. And he's also good at taking you out of work. He's so curious.
With James being so curious, he keeps his parents on their toes.
He asks a lot of pretty complicated questions. He asked the other day, he says, "So the liquid soap was purple in the bottle…" and when he put it in his hand it was clear. So he asked, "Why is that?" He asks me things like that. And I think it's because you're looking through more of the soap so you can see more of the color, but I'm not all that clear.
Source: Redbook
Thanks to CBB reader Mary Beth.
Have your children ever asked you questions that left you stumped for an answer?