Kerry Katona discusses pregnancy and addiction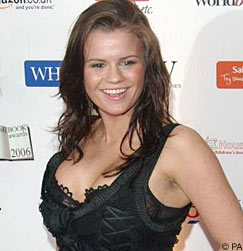 Brit singer and TV presenter Kerry Katona spoke out against rumors claiming she used drugs, despite being twelve weeks pregnant. The former Atomic Kitten behaved erratically during a recent interview on the UK's GMTV. Rumors swirled that Kerry was a "cokehead," which Kerry vehemently denied.
Click below for the interview highlights.
Kerry claimed her manic behavior is a direct effect of her bi-polar disorder:
It'sthe bi-polar. I'm often up and down. I think that's why some peoplethink I'm on coke. One minute you're "Grrrrrr!' then the next you'redown. I find it sick that people think I'd take drugs while pregnant.
Kerry and husband Mark Croft suffered a tough year: a home invasion, rumors of marriage difficulties, and a near miscarriage; despite the difficulties, Kerry affirmed the family, including daughters Heidi Elizabeth, 9 months, Molly Marie, 6, and Lilly-Sue, 4, is great.
I haven't had a turbulent year, everything's been fine. I'm dead happy. I'm happier than Larry, whoever Larry is.
Kerry addressed her near-miscarriage last September, admitting it was "horrible."
Thebaby scare was horrible. I didn't want people to know I was pregnant soearly but someone phoned the hospital pretending to be me and found out.

The next thing I know I'm bleeding heavily and when I had a scan it looked like there was nothing there.

I was told there was an 80% chance I'd miscarried. I was crying,thinking we'd lost the baby but Mark was convinced it was still there.I went back a few days later for another scan and there it was, thisbeautiful heartbeat.
Kerry, 27, admitted to oneproblem she struggles with daily: an addiction to cigarettes. Althoughher pregnancy is fragile, she can't quit.
I'm trying my best to give up but I wouldn't say I've totally quit — I'll have the odd one now and then.

Told she's been exposed for smoking while pregnant in a weeklymagazine, she rolls her eyes at the gossip stories she attracts on adaily basis.
All I ever read is "Kerry's a cokehead!" and 'Badmother Kerry went on honeymoon without her kids!' Next week it'll be,"Kerry, Queen of the Chavs" caravanning holiday!

The way I see it, if my life seems so troubled and cheers people up then I've done a good deed.
Kerry stressed this might be her last child: she and Mark hope for their first boy.
Being an only child and being brought up in foster care, all I ever wanted was a family.

If this one is a boy I will stop. We'd both like a boy, but if heor she is anything like Heidi we'll be delighted – she's so good. Idon't even know I've got her.
Source: Mirror