Don't just Label it, Mabel it!

Elisabeth Hasselbeck wouldn't know what to do if she didn't have Mabel's Labels, a company that makes personalized "labels for the stuff kids lose"™.
"I could not live without these!" Elisabeth said of Mabel's Labels, at her October 23rd on-air baby shower on ABC's The View, where she featured Mabel's Sticky Labels in her top 10 must-have baby products. They also offer skinny labels (for cutlery, pencils, etc.), allergy stickers (see below), shoe labels, bag tags, and other useful non-customizable labels like cord, spice, bin and crafter's labels. I also think their stationery is adorable and makes a cute holiday gift.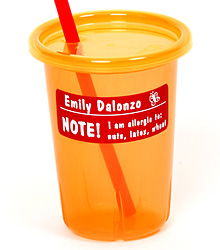 Elisabeth, a long-time Mabel's Labels customer, isn't the only celebrity to order these fun and durable, clothing and sticky labels.Laura Dern has ordered from Mabel. Brooke Shields and Lisa Rinna both wrote personal notes thanking the business for creating the labels.
Mabel's Labels was founded by four busy moms who were tired of their children losing their belongings or getting them mixed-up with their friends' so they created personalized labels to help organize everyday life. In just five years, Mabel's Labels' co-founders have trail-blazed a competitive personalized label market in North America and created a label empire.
Exclusively for Celebrity Baby Blog Readers: Until November 2, 2007 – Save 15% off any Mabel's Labels order. Enter promo code CBB07 at www.mabel.ca to receive discount. Or call 1-866-30-MABEL to order today.