Trista Sutter 'not pleased' with postpartum body; shares fitness and eating plan
Reality star Trista Sutter gave birth to son Maxwell Alston on July 26th and although the 35-year-old has lost a good amount of the 30 pounds gained during the pregnancy, she still is trying to get rid of the last of it.
Click below for the interview and new Max photos and video.

Trista, who is 5'2", is currently at 116 pounds and would love to get down to 106 pounds.
I'm definitely not pleased when I look in the mirror. When I fit into my size 26 Hudson jeans, then I'll be happy.
Feelings about her body:
Myfriend said that when I came home from the hospital, I'd be back in myold jeans. Fifteen pounds did fall off immediately, but the fact thatit's been three months and I'm still not in them is a bummer. All new moms want to feel normal and sexy again. I'm really focused on getting back to where I was before I got pregnant. I want to look even better!
The area that bothers Trista the most:
My belly. Ithas a layer of fat, which, of course, your body has to put on, but it'sblubbery and I hate it. I want to be able to go bathing suit shoppingfor a vacation and not feel totally disgusted — I just don't feel goodin a lot of my clothes.
On what she's wearing:
Around the house, I used to wear shorts with tank tops, but now I feel more self-conscious around Ryan. I live in sweats and a nursing bra — or even pajamas. It could be 2 p.m. and I'm still in my pajamas!

Because I'm so uncomfortable about my belly, I have to wear long stuff or put a spandex shirt beneath a tight top. Yesterday, I had to try on a million outfits just to go out to dinner. Before, I felt good in shorter jackets. Now, I wear Ryan's hoodie jackets to the gym — they're huge!
How soon she started working out:
After the c-section, I had to wait six weeks, which is hard because all these other new moms are doing yoga and boxing. So compared to them, I'm thinking it's going to take me forever, especially since I hadn't worked out since 'Dancing With the Stars,' a year before I got pregnant. I've been exercising now for about a month with a trainer friend, Brock Fetch.
What is the routine?:
Five times a week for an hour we do a combination of yoga, Pilates, and power-lifting exercises. But I've had abdominal pain, so I haven't been able to do the more aggressive exercises. When I danced for the Miami Heat, a lot of times I led the ab exercises, so the fact that I can't focus on it when it used to come easy to me is frustrating!

Still, I'm getting into the groove. After Max has gone to bed, I do abs at night while I watch TV. I try to do sit-ups for entire commercial breaks.
Finding the time to work out:
That's the question! If I have a date at the gym with Brock, I'll do it. But if I'm at home, I'll find something else to do because there are a million things to get done. If I didn't have a trainer, I'd have a friend call and say, 'What's your workout time today?' and put it on my calendar.
One good thing is that Trista isn't alone in her battle to lose the rest of the weight. Her husband, Ryan Sutter, 33, is doing his best to help as well.
IfI eat something that I shouldn't, Ryan shakes his finger at me andsays, 'Uh, uh, uh!' He's been awesome, 100 percent supportive. Hewatches Max when I go to the gym and is constantly saying that I lookgreat. But when you don't feel good about yourself, you don't feel likeyou want to be intimate. I want to feel, and look, sexy again for him.Even though he is being nice and saying he's still attracted to me, Iwant to feel like he's telling me the truth and not just saying itbecause he's a good husband.
Ryan adds,
I just encourage her to work out. It's not like I have to crack the whip!
Working out with her husband:
I bought a mountain bike three or four years ago, but only used it twice. My husband, being the triathlete that he is, said I would ride the bike while he went running, but he was doing circles around me. I was miserable! We love hiking together though, so that's a good thing for us to do.
On how she ate during her pregnancy:
The first four months, I was so sick that I only ate crackers and ginger ale. As the pregnancy progressed, I was feeling better, and I ate tons of French fries; it was awesome. I ate more Wendy's when I was pregnant than I ever have the whole time we've been married!

Then I got [gestational] diabetes and I had to cut down on all my carbs and really focus on eating more balanced. Now I need to step it up again.
On her eating plan now:
I know if I try a crazy crash diet I will rebound from it. Those diets are just not realistic with my lifestyle. I'm trying to keep it a bit looser, so I don't burn out, but the main philosophy of the diet is that it's higher in protein with healthy whole-grain carbs. Because I'm breastfeeding until Max is 6 months old, it's just not safe to cut calories, so I'm eating smart: five to six meals a day to keep my metabolism running.

Sweets are a huge problem in this house — we love ice cream, especially Ben & Jerry's Oatmeal Cookie Chunk — but we don't really drink, so that helps. My father-in-law just said this is a sad time, because we have more healthy food in our refrigerator than beer!
Finding time to eat healthy:
I showed up at the gym one day at 3 p.m. and the only thing I'd eaten all day was a bowl of cereal! Max is my top priority, so when he needs me I'm feeding him or playing with him. Food just doesn't pop into that picture a lot of the time; I really need to think about that, or I will ruin my metabolism by not eating.
What inspires Trista:
I found a picture of me with Howard Stern that I took after 'The Bachelor' in 2001, and I thought, 'I'm putting that up on the fridge. That way, when I go toward the refrigerator, I can say no. There are also my 'Maxim' photos. They did a huge poster for a promotion, and Ryan put it on the roof of the garage! They were really pretty pictures. I felt like I'd be proud to say in the future, 'Mommy looked like this once.'
Her ultimate body goal:
I just want to be toned. I like the athletic look, where you're not too skinny and not too muscular. Jennifer Garner is a rock star, and Jennifer Aniston has a phenomenal body — maybe I'll get there!
Still, Max and making sure he gets all the nutrition he needs from her remains Trista's true priority:
Idon't want to get too focused on losing weight. My No. 1 priority isMax, and I need to give him the calories he needs to grow.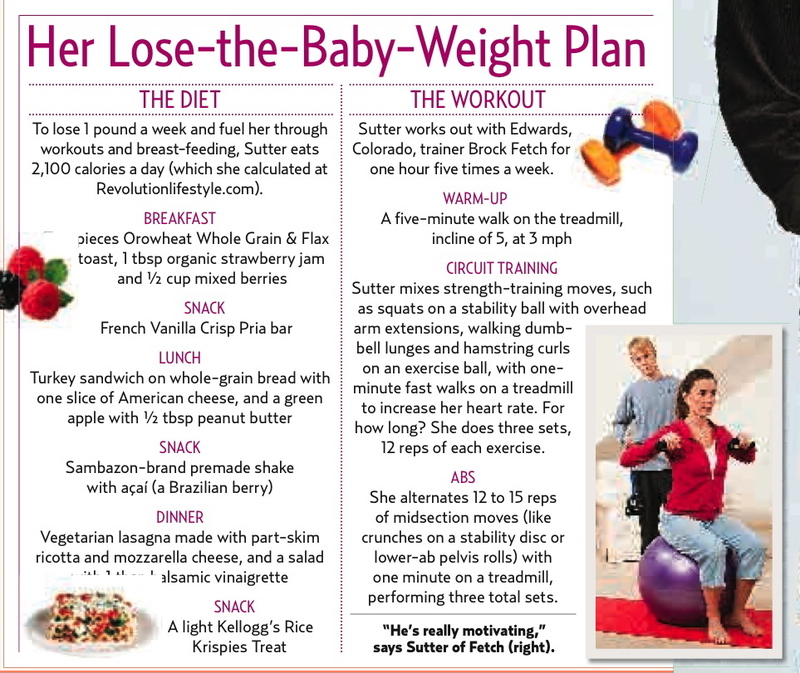 Source: US Weekly; November 5th issue, p. 48-53.
Were you happy with the amount of time that it took you to losethe weight from your pregnancy? Do you have any suggestions for Tristaon how to lose those last few pounds or how to handle not being back atpre-pregnancy weight?