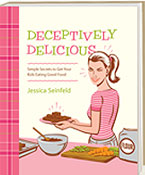 I'm sure you've heard about this new cookbook, and the controversy about it (which I will address at the end of this review), written by Jessica Seinfeld (yes, Jerry's wife and mother to their 3 children). I love the concept behind it, especially with a picky toddler refusing to seat 90% of his veggies.
According to her website, www.deceptivelydelicious.com, "Jessica Seinfeld, like many busy parents, struggled to get her three kids to eat healthily. After much trial-and-error — and many mealtime battles — she discovered a foolproof system: delicious and easy-to-make stealth recipes that sneak in puréed veggies so kids will never suspect the foods they love are actually good for them! Deceptively Delicious has all of Jessica's winning combinations, including cauliflower in macaroni and cheese, and spinach in brownies. She also shares tips on making healthy snacks and improving store-bought foods."
Armed with a new 7 cup Cuisinart food processor, I tackled making Jessica's purées first. So much easier than using my now broken blender, this food processor easily puréed the vegetables. I loved that Seinfeld gave directions on how to cook and purée every veggie under the sun. Spinach was steamed first and then pureed. I quickly figured out how much 1/4 of a cup was and I liked the method of putting the purées into little ziplocs. Then I went full steam ahead the next day, roasting and puréeing a butternut squash, steaming and puréeing a whole cauliflower, several yellow squash, and finally several zucchinis. I followed her hints to write the dates created on the bags with a sharpie. I froze practically all of the purées (since our kitchen was about to be demolished and I really wasn't going to be able to cook that much). That night I made her chicken nuggets, which were so easy to make! My husband,son and I loved it. I was surprised that Ben didn't notice that under the breading, the spinach made the chicken green. My husband and I thought the spinach gave it a great taste and we couldn't get enough of it. The recipe's a keeper!! That night I also made a family size box of Annie's Mac and Cheese and put yellow squash puree in it. Ben loved that too! I froze meal size portions afterwords for easy serving during our construction.
Since we are now in the middle of construction, I obviously can't cook anymore, but that doesn't mean I can't use the purées!! I kept out a yellow squash puree and keep adding it to Ben's mac and cheese (in the little Beechnut or Gerber containers). It does work a little better, if you mix it in a new bowl to serve. He can't tell the difference and I know he's getting his veggies. Unfreezing the bagged purées in a bowl full of hot water is also easy. She recommends cutting on of the corners of the bag to pour the puree out (another good idea).
Now I am also adding flaxseed meal to many of our dishes also, as Jessica recommends. II used it top the corn muffins I made last week (from a mix) and didn't affect the taste at all. As soon as we have a kitchen again, I plan on making many more of Jessica's recipes. Oprah recently featured Jessica (and loved the food). Jessica's tips and recipes can be found on Oprah.com. A portion of author's royalties will be donated to Baby Buggy.
Also following Jessica Seinfeld's advice, I keep offering a small selection of veggies at every meal for him and I always offer him what we are eating (an entree with a vegetable side dish too). Sometimes my little fussy eater will actually take a few bites. My husband and I love to eat vegetables, so I hope my son will come back to eating them voluntarily, Until then, I'm going to be deceptive!
Click here to buy this book!
Writer's Note: Since I reviewed this book and Missy Chase Lapine's book, The Sneaky Chef, recently, I feel qualified to comment on the NY Daily News's recent Rush and Molloy story about Jessica's book. Click hereThe Sneaky Chef. I feel, even though the concepts in the book are similar, the puree recipes are very different. In Seinfeld's book, one vegetable at a time is pureed for use. Lapine's book's purees are done by color (the white puree, for example is cauliflower and zucchini, with a little lemon juice). Yes, some of the recipes are similar, but they both use kid friendly recipes like Mac and Cheese, chicken nuggets…etc.. How different can you really make those recipes? For chicken nuggets, It makes sense to add a vegetable puree to the egg mixture, before you put it in the breading and cook it! I enjoyed both books and feel that they should serve as a companion to each other, rather than replace the other. The more suggestions on how to get my child to eat his veggies, the better! to read my review of
According to Vogue's September 2007 article, Talking Fashion: Norwich Notes, Jessica Seinfeld had some help with her book. Chef Jennifer Iserloh (www.skinnychef.com) helped develop and test the recipes. She also had input from nutritionist Joy Bauer, parenting experts Jean Mandelbaum, Ph.D and Pat Shimm, and the Foreword was written by Dr. Roxana Mehran and Dr. Mehmet Oz.
– Nancy
What do you do to stop mealtime battles? Do you agree or disagree with the Deceptively Delicious methods?