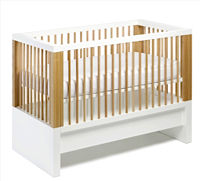 Ever seen Mariska Hargitay in person? She's beautiful, for sure. But even more than beautiful, she's bold, strong, defined, tall. Her stature is unmistakable. It's easy to understand how she can carry off her role in Law & Order: SVU with such an uncanny combination of strength and femininity.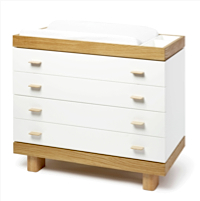 And then you see her with her baby. Happy doesn't describe it: Undeniably in love. Glowing. Radiant. Motherhood suits her in a classic sense, and yet she represents the quintessential modern woman: strong, modern, in charge.
So it's no surprise that for her nursery furniture she chose the NettoCollection. Created by David Netto, the father of modern baby furniture, the designs are not for the faint of heart. Nothing cutesy or precious here: this is real furniture, with strong lines and a contemporary feel. The pieces are bold, modern, and beautiful. Just like Mariska and her son.
---

In addition to smarter products, giggle offers customized services to help make it easier to become a new parent, such as giggle personal shoppers and giggle's ultimate baby registry, offering parents a robust set of tools such as gear guides, starter checklists and a baby gear dictionary.