Update: Elisabeth Hasselbeck in Pregnancy Magazine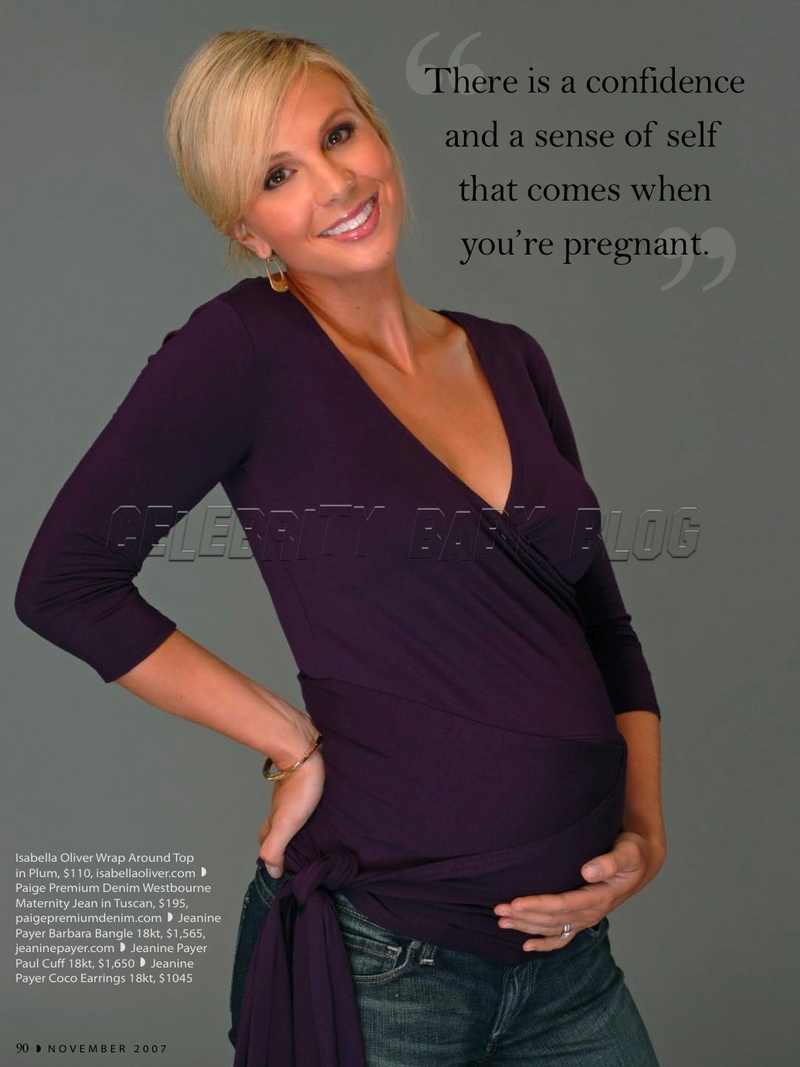 View co-host Elisabeth Hasselbeck, 30, poses for the cover and a spread in Pregnancy's November issue. Elisabeth expects her second child on November 11th — she and husband Tim Hasselbeck are keeping the sex a surprise.
Click below for all the photo, fashion, and interview highlights, including Elisabeth's candy craving, how she deals with her Celiac disease, Grace's birth and her recovery, motherhood, and why sometimes you just need someone to tell you you're doing a good job.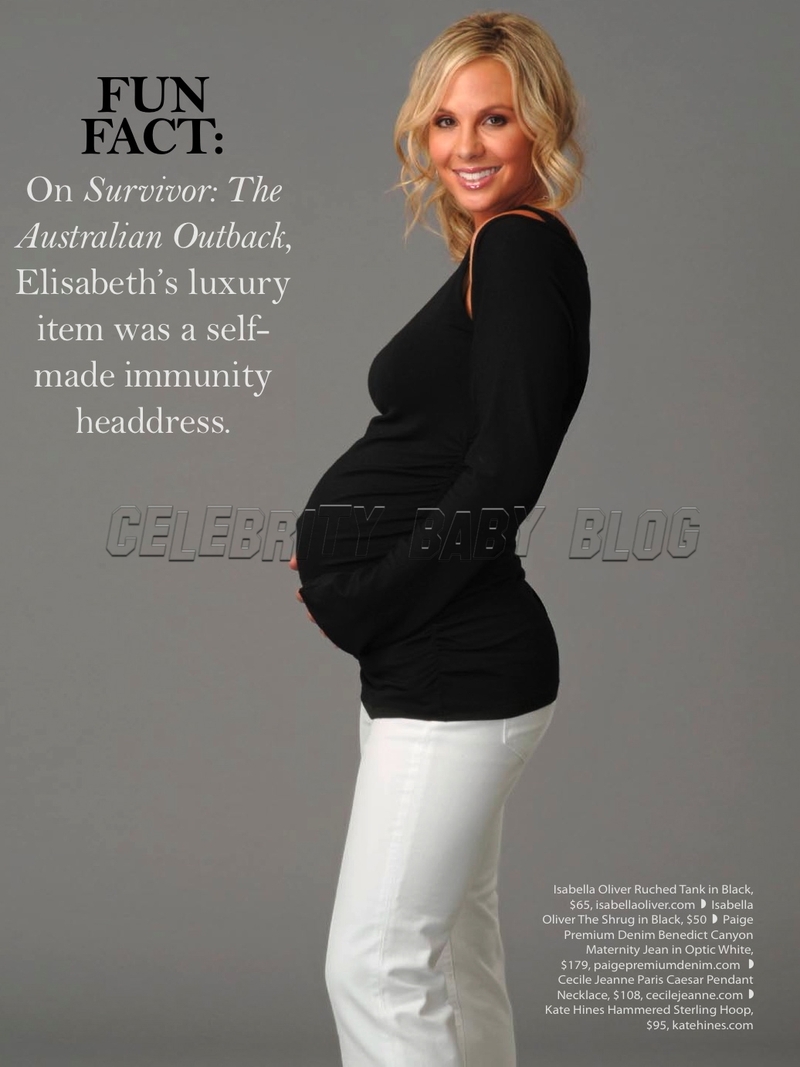 (Elisabeth is wearing an Isabella Oliver ruched tank ($65) and shrug in black ($50), and Paige Premium Denim Benedict Canyon maternity jeans in optic white ($90).)
On pregnancy pass-outs: Once a pregnancy I tend to pass out. Once was at 'The View' Christmas part and it was my first year.
When I came to, Barbara was like, 'Darling, you'll stay at myhouse,' fanning me. Meredith had ice packs on my neck. And Star hadcalled the car already; she tells me, 'OK, my driver is going to pickyou up, he's going to get you juice, he's going to take you home,everything's all arranged already!' And Joy was laughing and snappingphotos, documenting the ordeal for the show the next day.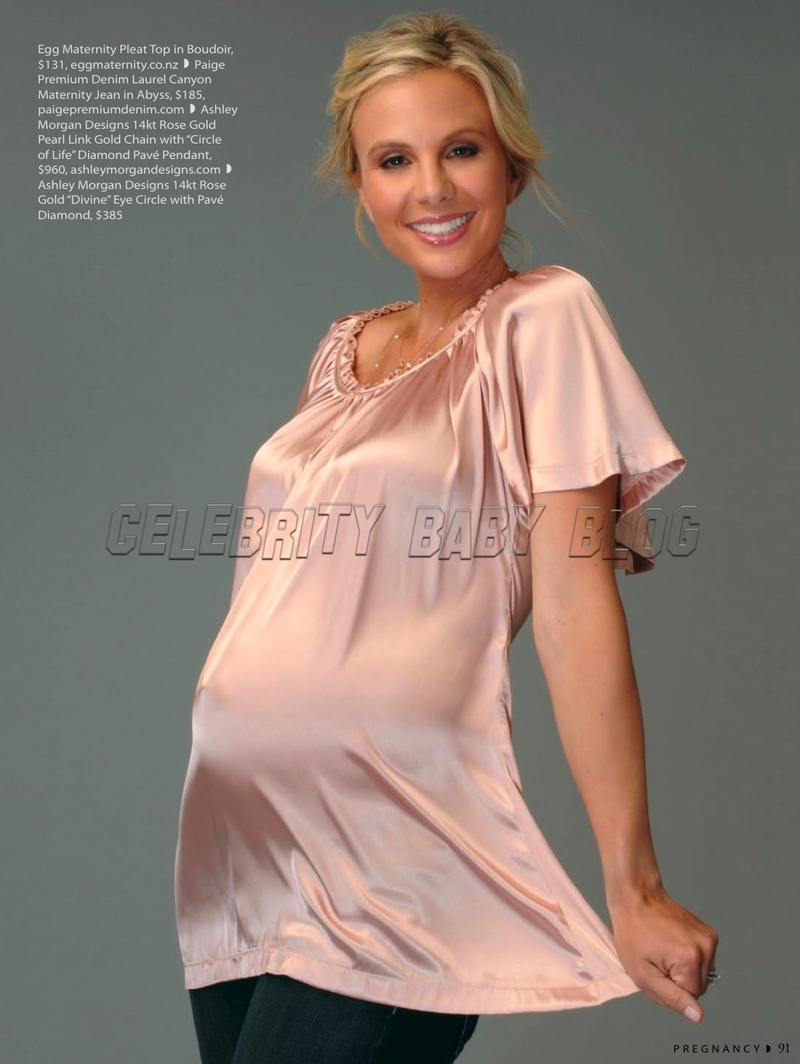 (Elisabeth is wearing an EGG Maternity pleat top in boudoir ($160), and Paige Premium Denim Laurel Canyon maternity jeans in abyss ($180).)
On cravings: I cannot think of anything but a Tootsie Rolltoday. I know that there's a bag and a half in my cupboard right abovethe sink in my kitchen. No one better get in my way of getting that.
On her Celiac disease and pregnancy: It has posed a littlebit of a challenge, because your instincts when you're pregnant arejust to have something fast, and with Celiac disease a lot of thosethings — if you haven't done your shopping ahead of time — are notavailable. I find myself Googling Hershey's Kisses: 'Are thesegluten-free?'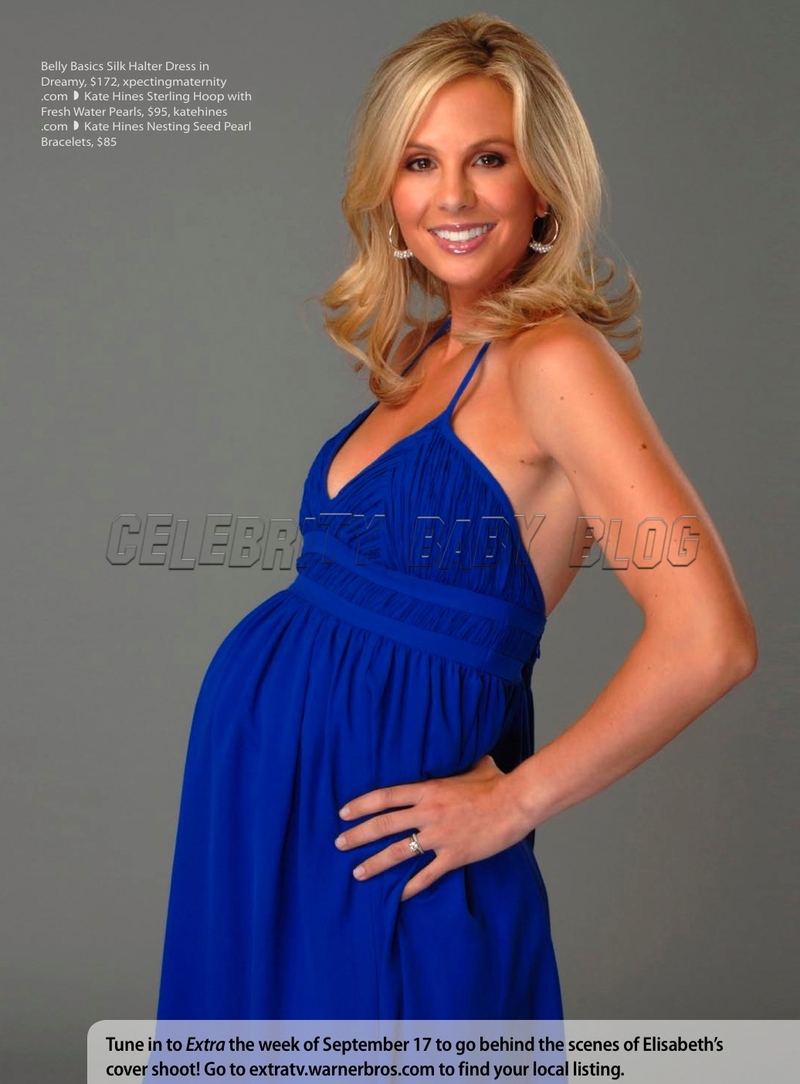 (Elisabeth wears a Belly Basics dreamy silk halter dress ($180; black or rose only).)
Handling 'gross days' on national television: I feel likeI have more of those times when I'm not pregnant than when I ampregnant. I feel as though I'm a little less hard on myself when I'mpregnant. I'm just happy that I can be there and not feel nauseousanymore.
Also, there is a confidence and a sense of self that comes when you're pregnant more so than when you're not.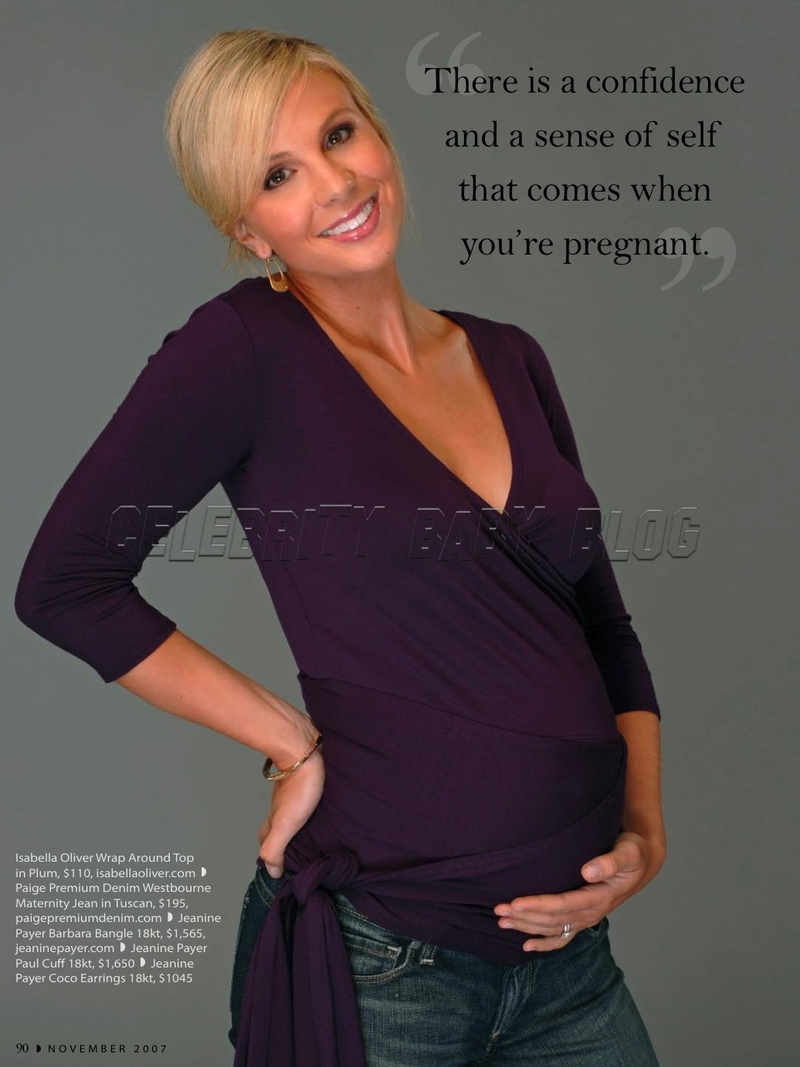 (Elisabeth is wearing an Isabella Oliver wrap around top in plum ($110), and Paige Premium Denim Westbourne maternity jeans in Tuscan ($195).)
On being away from Tim (who at the time was playing football and is now a sports commentator): Idon't like being away from him in general. I like him…a lot. And Iprefer that he's around…a lot. So I'm just not good at not beingaround him.
I thought it would be easier with Grace, because now I've gotcompany and we have fun together, but she misses him so much. Soeverything goes fine, but then if one little thing goes wrong, shebursts into a sob and 'I want Daddy!' and I'm like, 'I know! I wantDaddy too! This is very hard!'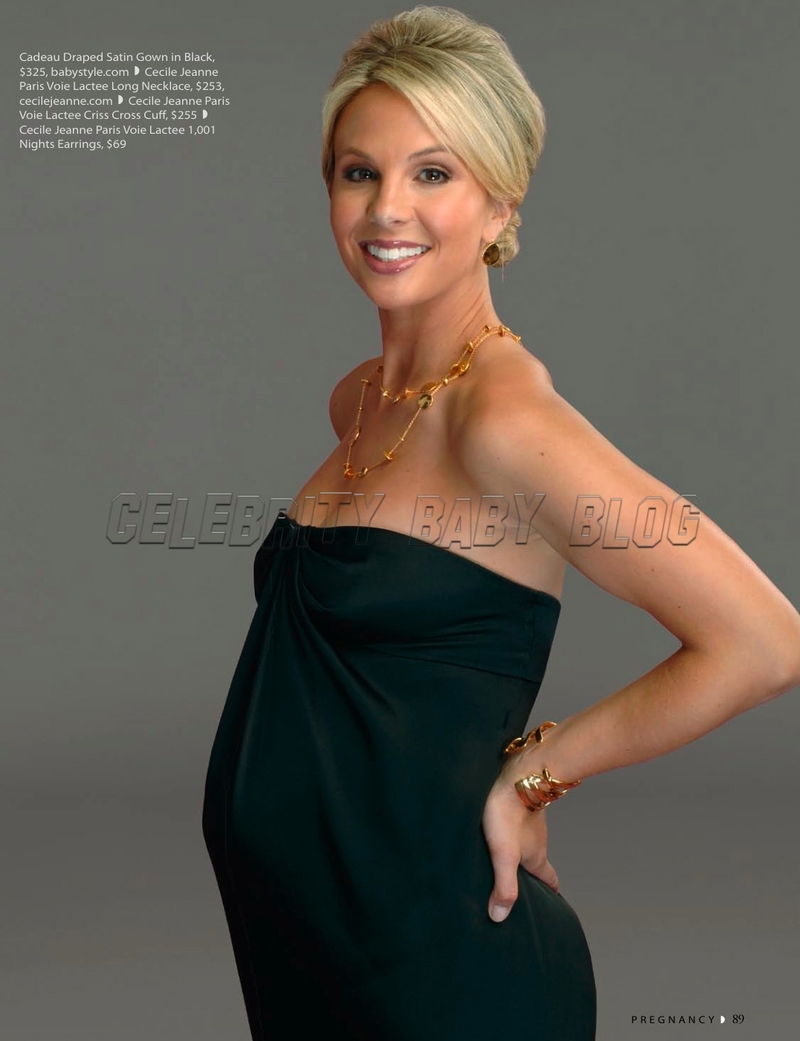 (Elisabeth wears a Cadeau draped satin gown in black ($325).)
On Grace's birth: Pregnancies are fine — deliveries arenot so comfy. But I had the best nurses [at the hospital], I will neverforget them — they're your lifeline.
This one nurse taught me how to get Grace to latch on to breastfeed. I was like, 'You just saved my life, I had no idea!'
And she was caring with Grace. It's so amazing when you see someone else loving your child. Gosh, I'll never forget them.
On her recovery from Grace's delivery: I remember gettingin a cab two days after giving birth and holding myself up and runningin my doctor's office and just saying, 'I need the stitches out.' Everytime I would blink my eye, I would feel something [in my crotch], itwas awful.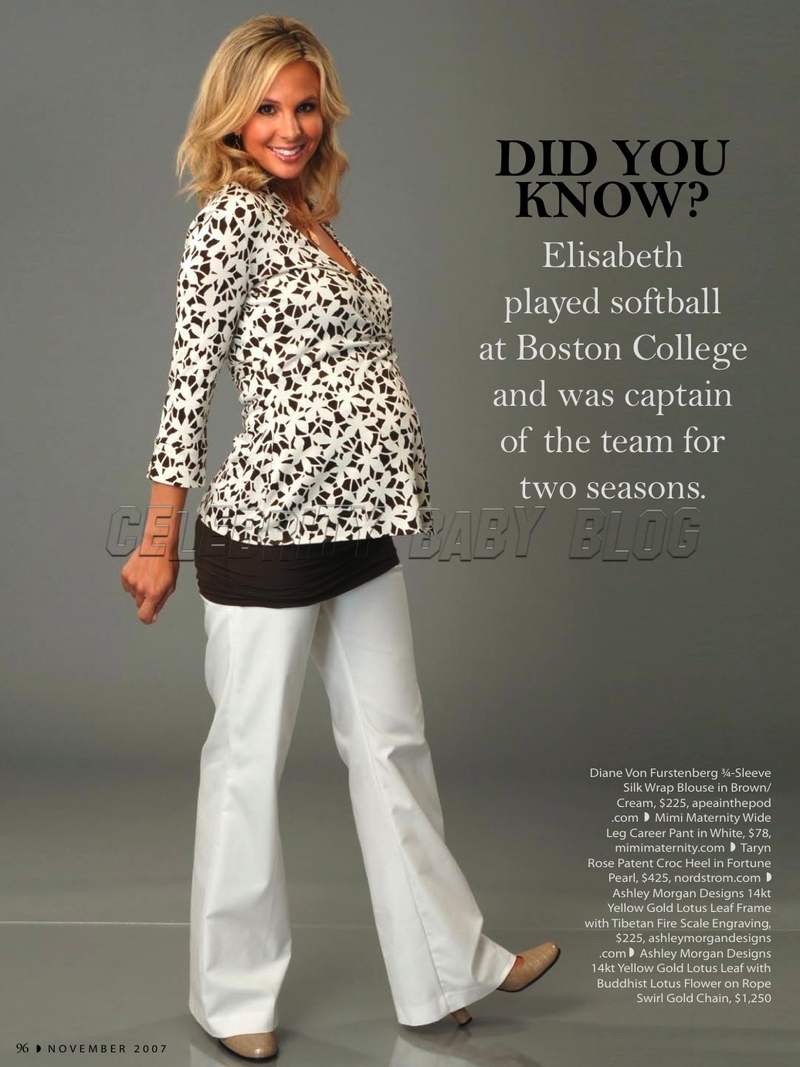 (Elisabeth is wearing a Diane von Furstenberg 1/4 sleeve silk wrap blouse in brown/cream ($225), and Mimi Maternity wide leg career pants in white ($78).)
On personality changes since becoming a mother: Motherhoodin general brings out a stabilizer in your body. It gives you thisground because you know you need to be a sounding board for yourchildren. I think I definitely felt like something was birthed in mewhen I birthed Grace — a different element to my personality thatmaybe wasn't there before or was just lying dormant for nearly 27 years.
On feeling vulnerable as a new mom: It's just bizarre thatyou're alone trying to take care of a baby when you feel your almostabsolute most vulnerable. I had this one day when I just broke down andcried. It's really hard to ask anybody to help you, but you need help.You need somebody to even just look at you say, 'You're doing a goodjob.'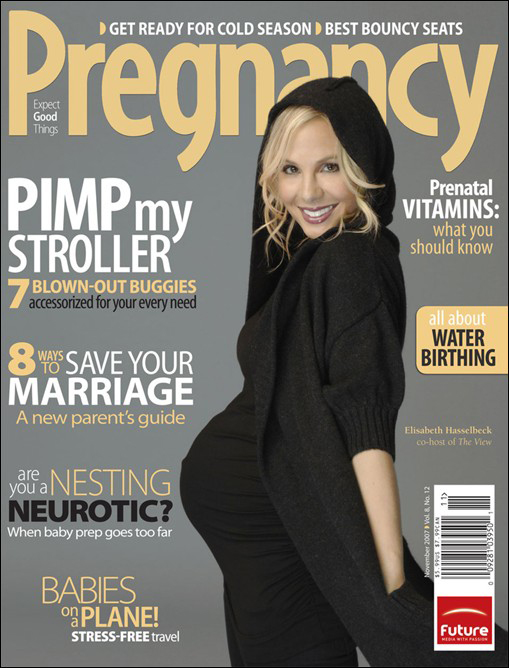 (Elisabeth is wearing a Vince collared two-pocket cardigan ($250), Isabella Oliver ruched tank ($65), and Paige Premium Denim Blue Heights maternity jeans in black overdye ($185).)
Source: Pregnancy, November issue, p. 88-96