Update: Giveaway: The Three-Martini Family Vacation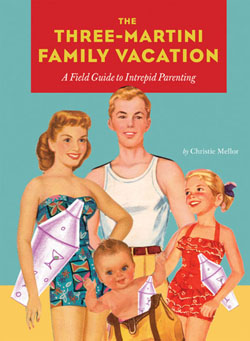 Update:The winners (and their advice) are:
Jennifer, who said, "My advice for the perfect family-friendly vacation is to rent a vacation house with another family. That way you can swap babysitting or have girls/guys nights out. We're doing this with friends in Mexico this winter!"
Deidre, who said, "Try not to accomplish too much in one day. Always keep food with you and whenever possible rent a house instead of hotel room. More space and allows the kids to have at least a few normal home cooked meals. Interestingly, I have found a number of houses that worked out to less than a small hotel room in terms of cost."
Nicole, who had a lot of tips!
If it's a long trip, stock up on kid-friendly car activities,like coloring books, puzzle books, small toys, etc. Or, my personalfavorite from traveling with my grandparents every summer: road Bingo!(Using road signs as Bingo spots)
I agree with saving the big trips until the kids are older, likeDisneyland. My mom waited until we were all old enough (and tallenough) to go on all the rides and enjoy the full experience, not justthe "It's a Small World" one.
There are "family" vacation places and there are "adult" vacationplaces. Don't assume they can be interchangeable. My bosses went on acruise with their 1-year-old and spent the entire time in the cabinwith him since there was no child care available for children under 5,and kids had to be potty trained before they could go in the pool. Theywere all miserable by the end. Do some research ahead of time to seewhat kind of activities are available for kids and what age range isacceptable.
Incorporate as much interactive activity as possible. Kids do notenjoy walking tours, sightseeing, or any other "grown-up" things. Ifyou're going to Italy, grab some helado before you see the Vatican. Ifyou're going to Mexico, schedule a swim with the dolphins. Basically,make it fun!
Exclusively for CBB Readers: If you didn't win but would still like the book, enter promo code SeanPreston at chroniclebooks.com to receive 30% off and free shipping on your entire order. Offer expires November 30.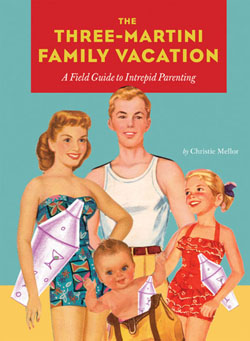 Chill the glasses! The author of the wildly successful Three-Martini Playdate is back with more irreverent and useful advice about life with children in The Three-Martini Family Vacation. Wickedly funny essays offer helpful advice on harnessing the energy of toddlers-gone-wild: on vacation, out to dinner, even just when grandmother stops by for a visit. Parents will relearn the art of traveling, socializing, and eating out like adults . . . sometimes with well-behaved children in tow. In dozens of short, kicky chapters like The Self-Sufficient Carry-On: Your Child, Cocktail Parties: Actually for Grown-ups! and The Theme Park Vacation: A Last Resort, Christie Mellor gently reminds parents that family vacations can truly be fun. Cheers to more quality time for grown-ups with kids!
Enter to win one of three copies of The Three-Martini Family Vacationby answering this question: What's your advice for planning theperfect kid-friendly getaway? (The giveaway closes October 12th at 9 amEST.)