Sponsor: Bliss Living: One-of-kind Necklaces for Mommy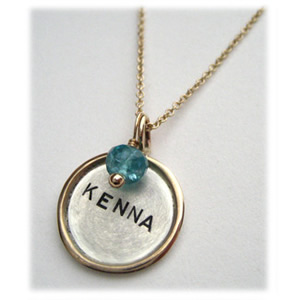 Simple and elegant. The "Silverwith Raised Gold Frame Charm Necklace" by designerHeather is hand pressed with turn-of-the-centurystamps and individually hand framed. Comes with 1 goldchain, 1 faceted tourmaline stone on gold wire, and 1sterling silver with raised gold frame charm.Additional charms and stones can be added. You willtreasure this original creation forever. Perfect giftfor that special mommy. Order early for the holidayssince it takes 4 weeks to make and ship. Clickhere to order. $515.
Check out BlissLiving.comfor a large unique selection of gorgeous necklacesand bracelets for mommy. There's something forlittle girls and daddys, too. All pieces areone-of-a-kind originals by talented designers.
Order from BlissLiving at www.blissliving.comor call 1-888-983-2229.