Elin Woods with Sam Alexis in Stockholm
Model and wife of golf player Tiger Woods, 31, Elin Woods, 27, took their daughter, Sam Alexis, 3 1/2 months, out for a walk in Stockholm, Sweden. With Elin is her twin sister, Josefin.
Elin and Josefin were working as nannies for Swedish golfer, Jesper Parnevik, when she was introduced to Tiger at the British Open in 2001.
Photos by Flynet.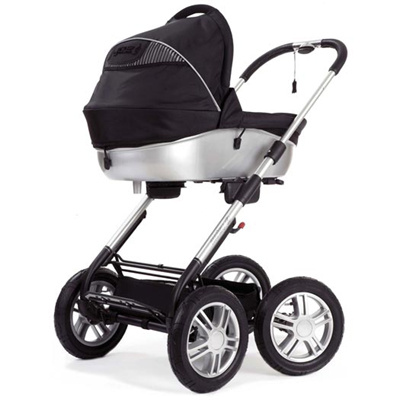 Sam rides in a Mutsy Urban Rider Next Stroller ($759).
Continue reading for another photo — and further information on the stroller.
Thanks to CBB reader Michelle, Stephanie and the Stroller Queen.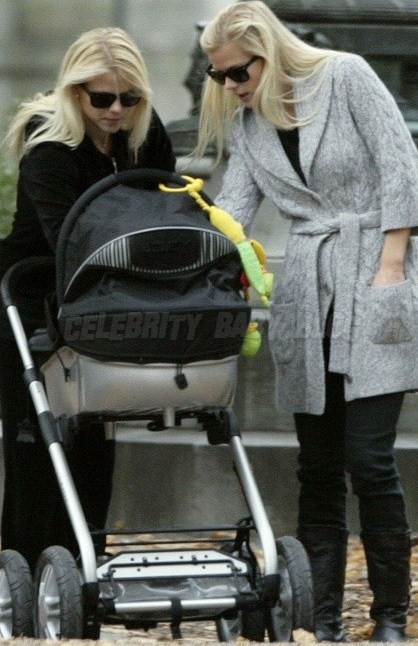 The Mutsy Urban Rider Next came out in the U.S. when Mutsy made its U.S. debut at the ABC show September, 2006. URN was new elsewhere (outside U.S.) as well for 2006. The stroller is in the 2008 Mutsy collection and remains one of their most chic, eye-catching baby transport offerings. The definitive stroller for high tech style and performance, the Urban Rider "Next" version has the same extraordinary functionality as the Urban Rider but with a luxurious leather handle and the elegant "Joey" bassinet and seat. Designed in a modern combination of silver and black, the ultra-hip "Joey" is contemporary fashion at its best. Constructed of a stylized hard-cased body, the sleek and sophisticated bassinet encases and protects a sleeping baby. The "Joey" seat can be used with either its richly upholstered cover or in a more minimalist form featuring a stunning combination of dual density foam and mesh.
A coordinating "Joey" backpack style baby bag is available separately, as is a car seat adaptor for the Graco SnugRide®, Safe Seat® and new Maxi Cosi™ car seat. It is suitable for use from birth.
Available in: Silver
Recommended Retail: $759
Recommended Retail, matching "Joey" Backpack Style Baby Bag: $79