Laura Dern takes kids Halloween costume shopping
Actress Laura Dern, 40, takes her children Ellery Walker, 6, and Jaya, 2 1/2, to buy Halloween costumes on Saturday. Also with them is Ben Harper's daughter Harris, from his first marriage.
Photos by Flynet.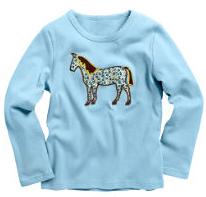 Jaya wears a miniBoden blue horse jersey top ($24).
Harris wears a miniBoden pretty smock top ($24) from last season.
Continue reading for more.